Which Cars Work Best For The American Retiree Lifestyle?
Retirement, ah! You've put in a lot of effort for most of your life; now it's time to relax and take it all in. Many people associate this chapter of their lives with many modifications, one of which is re-evaluating their wheels.
Your automobile needs to adjust to your changing lifestyle, whether you intend to go on new adventures, want a car to zip around to lunches or gold dates, or need additional space for the grandchildren.
Factors to Consider
Retirement may not be as easy as it once was, but one thing you should be thinking about is the car that will take you blissfully into your senior years. Some factors you ought to think about:
Let's face it; you're not moving as effortlessly as you once did. The perfect car for retirement must therefore be comfortable. The most crucial thing is that it has roomy surroundings, but you should also look for cars with plush leather seats that offer plenty of lumbar support and wide flexibility.
Another important factor is the ability to regulate temperature through amenities like climate control and heated/ventilated seats
According to a study by Neuroscience Research Australia, injuries suffered by older drivers are more severe than those in younger age groups. This is especially true as you approach the later years of retirement, when the risk of injury increases dramatically at higher speeds – up to 10 times higher risk for each mile per hour!
Let's assume that everyone in the family has moved out (even if one of your kids didn't get an apartment until the age of 30) and that you are now prepared to begin making cuts. Downsizing your car has many advantages.
Do you still own two automobiles with your partner? That may not be essential any longer since you are retired, as there is a strong chance that you will be doing a lot more things together now that you do not need to go to separate places of employment. Consider selling one, or even both, of the older cars and purchasing a new one that makes more sense for your retirement years. Be sure to make Car Credit your first stop when shopping for a car – with Car Credit's guaranteed credit approval and 2-year maintenance agreement, you drive away confident that your vehicle will serve you for years to come.
Smaller could also be preferable. Is that SUV necessary now that you don't transport the whole family anymore? Consider switching to a medium-sized or tiny car; you'll save money on maintenance and gas this way. Additionally, smaller vehicles depreciate more gradually and are simpler to park.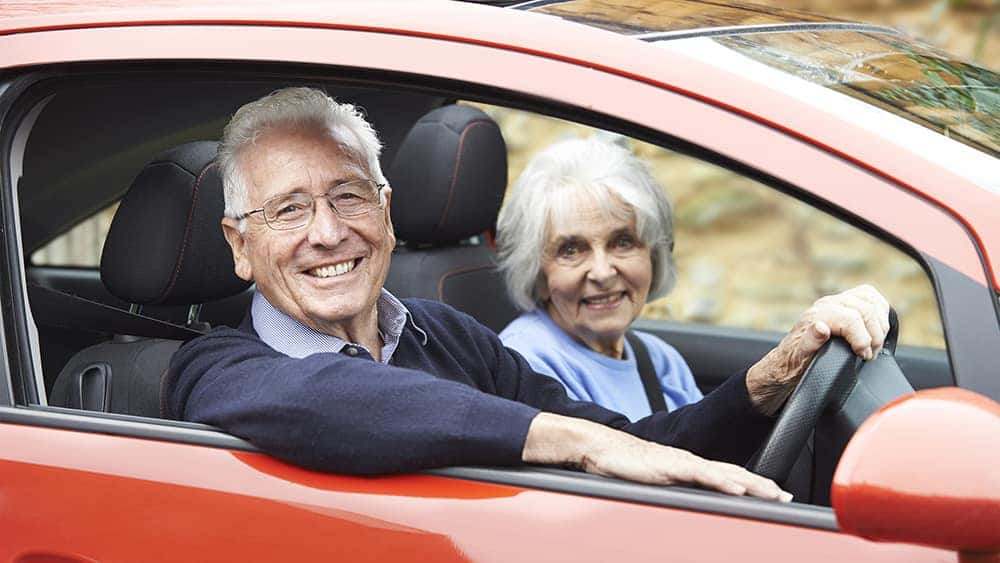 The Best Cars for Retirement Life
Retirees are as individual as people of any age. You may be looking for a car to go on long overdue road trips or searching for the best automobiles for seniors with arthritis.
Lexus UX
For many retirees, a small SUV makes a lot of sense. You get a large SUV-like high driving position that is simpler to squeeze into small parking places, along with good utility and running costs that are barely more expensive than those of a standard family hatchback. Which should you pick is the question.
The Lexus UX compact SUV could be the car for you. The design is bold, and the quality is excellent, plus the UX has one of the best cabins in its class. It's a brilliant blend of the old and the new that appeals to drivers of all ages!
Toyota Prius
The comfort and accessibility of this fuel-efficient compact automobile are highly rated, two important factors for older drivers. Reversing cameras, adaptive cruise control, and road sign recognition are all included as standard safety features on the Prius to reduce the risk of collisions.
Upgrade to one of the four trim levels for extra features like self-parking assistance, blind spot monitoring, and forward collision warning with brake assist for greater peace of mind if you want more for your money.
E-Class Mercedes
If you are in the market for elegance and simplicity with a dash of fun, the Mercedes E-Class is unquestionably in a league of its own.
Even though it isn't the most affordable vehicle on this list, the Top Safety Pick+ award it won from the Insurance Institute for Highway Safety (IIHS) makes it well worth the cost.
Range Rover Evoque
The Evoque demonstrates that going big is unnecessary to get a genuine Range Rover experience. A smaller, more maneuverable body delivers the angular appearance of the pricier Velar and the off-road prowess of the bigger Range Rover.
The flush door handles, that come out when you need them, and the soft materials used in the interior, are only two examples of the many interesting elements that may grab your eye. Depending on the trim, leather, wool, and even eucalyptus fibers are options, and seats can have either manual eight-way adjustment or electronic 16-way movement. In either case, it should be easy to become comfortable in an Evoque and less difficult to get into than a low-slung sports vehicle.
Jaguar F-Pace
The Jaguar F-pace is every traveller's fantasy car – maybe it's time to drive one! This SUV tackles long travels with ease thanks to its 10-inch Touch Pro infotainment system, automatic emergency braking, and lane-keeping assistance.
If you must drive during rush hour, the you will be grateful that your F-Pace also comes with state-of-the-art Stop & Go technology! Traveling has never been simpler with a travel trailer in tow, thanks to the many safety features and the option of all-wheel drive!
At Car Credit, we will help you narrow your search as much as possible, including low-slung sports cars for thrill-seeking Sunday morning drives, attractive high-riding SUVs for impressing the neighbors, and vehicles that cater to drivers seeking optimum comfort. Stop by a Car Credit location today and start thinking about the best car for your retirement. Happy Trails!