Vehicle Spotlight: the Chevy Equinox
The Chevy Equinox is a compact SUV that offers a perfect blend of style, comfort, and performance. A standout with its sleek exterior design, spacious interior, fuel efficiency, and versatile cargo space, the Equinox is a top choice for drivers looking for a reliable vehicle suitable for virtually any occasion. Car Credit offers a variety of years and models with flexible and affordable options.
An Exterior Design with Personality
The Chevy Equinox features a modern and sleek exterior design that is sure to impress. Its bold lines and aerodynamic shape give it a sporty and sophisticated look. The Equinox also comes with LED daytime running lamps that not only enhance visibility but also add a touch of elegance to the overall design. Additionally, the Equinox offers an available panoramic sunroof, naturally lighting the cabin and creating an open and airy feel.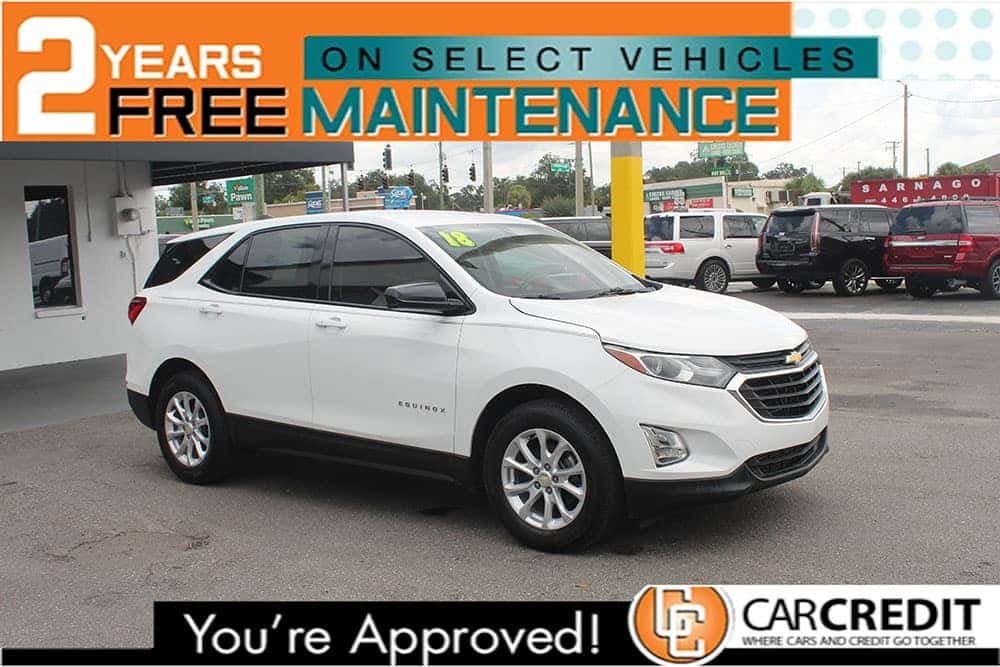 Spacious and Comfortable Interior for Variety of Use
Step inside the Chevy Equinox and you'll find a roomy and cozy interior that is designed with both driver and passengers in mind. The Equinox offers available leather-appointed seating that not only adds a touch of luxury but also provides maximum comfort during long drives. The front seats are also available with heating functionality, perfect for those cold winter mornings. With ample legroom and headroom in both the front and rear seats, everyone can stretch out and relax in the Equinox.
The Chevy Equinox offers versatile cargo space to accommodate all your needs. It features a spacious cargo area that can be easily accessed through the available hands-free power liftgate. The Equinox also offers 60/40 split-folding rear seats, allowing you to configure the cargo area to fit larger items while still having room for passengers. Whether you're going on a road trip or running errands around town, the Equinox has the space you need to carry all your belongings.
Safety Features Offering Peace of Mind
Safety is a top priority in the Chevy Equinox. It comes equipped with advanced safety features that save you from worry, especially when riding with family in tow. The Equinox offers available safety technologies such as Lane Keep Assist with Lane Departure Warning, which helps keep you in your lane and alerts you if you start to drift. It also offers Forward Collision Alert, which warns you if it detects a potential front-end collision. With these advanced safety features, you can drive with confidence knowing that the Equinox has your back.
Fuel Efficiency and Affordability
The Chevy Equinox delivers performance and fuel efficiency. It offers an available 2.0L turbo engine that provides plenty of power for a thrilling driving experience. Despite its size and space, the Equinox offers an estimated 32 MPG highway fuel economy, allowing you to go further on less fuel. Whether you're cruising on the highway or navigating through city streets, the Equinox delivers a smooth and efficient ride.
In addition to an impressive fuel economy, the Chevy Equinox is one of the most affordable vehicles in its class. Without sacrificing space, comfort, or fuel consumption, this vehicle is sure to fit into your budget. Car Credit also offers a flexible financing policy. Car Credit approves anyone regardless of credit score, whether you're new to the country, have significant negative history on your credit report, or are a first-time car buyer. With Car Credit you can also breathe easy with 2 years of free maintenance on select vehicles, including Chevy Equinox models.
Modern Technology for a Connected Driving Experience
Stay connected on the go with the innovative technology features in the Chevy Equinox. It offers the available Chevrolet Infotainment 3 System, which includes a 7-inch diagonal color touchscreen, Bluetooth connectivity, and Apple CarPlay and Android Auto compatibility. The Equinox also offers an available 4G LTE Wi-Fi hotspot, so you and your passengers can stay connected to the internet wherever you go. With these advanced technology features, you can enjoy a connected and entertaining driving experience.
Award-Winning Recognition and Reviews
The Chevy Equinox has received award-winning recognition and positive reviews from industry experts. It has been named a IIHS Top Safety Pick, highlighting its commitment to safety. The Equinox has also received positive reviews from publications such as Car and Driver and Edmunds, praising its stylish design, comfortable interior, and up-to-date safety features. With its accolades and positive reviews, the Equinox is a trusted choice for drivers.
A Versatile Compact SUV from Car Credit
The Chevy Equinox is a top choice for drivers looking for a reliable and stylish vehicle. With its special exterior design, spacious and comfortable interior offering great versatility, modern safety features, affordability that doesn't sacrifice power, and award-winning recognition and reviews, the Equinox offers everything you need in a compact SUV. Consider the Chevy Equinox as your next vehicle choice and experience the perfect blend of style, comfort, and performance.
Come visit any of Car Credit's dealerships in the Tampa Bay area to check out and test drive a Forte, or any other vehicle you may be interested in!
Check out Car Credit's website at carcredittampa.com for a full list of available vehicles, contact information, and vehicle-specific features.