Used Ford Fiesta in Tampa
The used Ford Fiesta is an excellent automobile for those who do not have much space to park and are are looking for excellent fuel economy. The Fiesta can slip in and out of traffic easily on those busy, congested streets during rush hour to get you where you need to be on time. The ride is smooth, and no parking slot will turn you away because you are too large. The used Ford Fiesta is a smooth ride and is comfortable for the driver. The steering wheel is tilt/telescoping so you can position it right where you need the wheel. The Fiesta also comes with air-conditioning making the ride for all more comfortable in the heat of the summer.
The Fiesta has a 1.6L 1-4 engine with 120@ 6,350 rpm of horsepower and 112 @ 5,000 rpm of torque. This makes the engine more fuel-efficient. The used Ford Fiesta has 29 miles per gallon in the city and 38 miles per gallon on the highway. Great for both the pocketbook and the environment. There are power windows and auto-locking power door locks on the Fiesta. An added bonus is the 40-watt AM/FM stereo with CD/MP3 player including an auxiliary input jack and four speakers.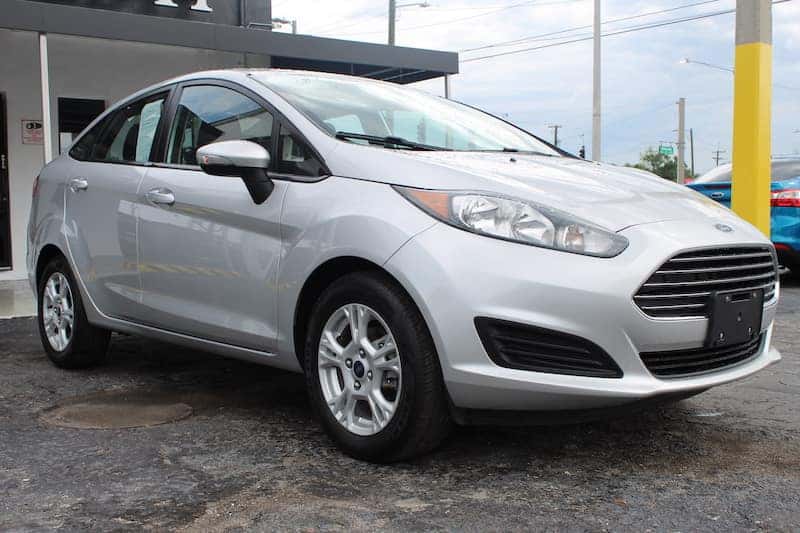 Safety is a top priority for Car Credit Tampa and our customers. Seat belts are always your first line of defense when it comes to an accident, and the Fiesta comes with height adjustable seatbelts with pre-tensioners. Airbags are also standard in the used Ford Fiesta. Front, side, overhead, and knee airbags are all included. The used Fiesta also comes equipped with anti-lock breaks, stability control, security system, and for those of us with children- rear door child safety locks.
At Car Credit Tampa, we have over 500 used vehicles in stock at our four different locations. Check out what we have in inventory and what specials and deals we may be running at carcredittampa.com. You can also contact Car Credit Tampa at 877-696-8226 to talk to one of our friendly, experienced, and bilingual staff members.
Find used Ford Fiestas here:
https://www.carcredittampa.com/inventory/used-2011-ford-fiesta-se-front-wheel-drive-sedan-4-dr-3fadp4bj8bm121357
https://www.carcredittampa.com/inventory/used-2012-ford-fiesta-se-front-wheel-drive-hatchback-3fadp4ej9cm160844
https://www.carcredittampa.com/inventory/used-2014-ford-fiesta-se-fwd-hatchback-3fadp4ej7em133984
https://www.carcredittampa.com/inventory/used-2015-ford-fiesta-se-front-wheel-drive-hatchback-4-dr-3fadp4ej5fm101598