Top Used 4×4's from 2010 to Present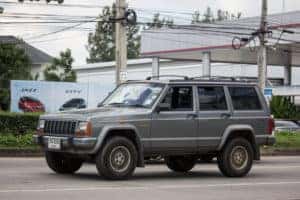 There are a lot of reasons to avoid used SUVs. They don't get the best mileage even when they are brand new off the line. As used vehicles, they are expensive to purchase, expensive to repair and maintain, and expensive to fuel, but those going on a national road trip adventure or an adventure to the theme park with a passel of kids are going to be willing to make those sacrifices for a good 4×4 vehicle they can count on.
But what models of 4×4 SUVs are the best used vehicles? To determine that, you want to look at average gas mileage, as well as how long the vehicle has been on the road. There are only a few 4×4 used SUVs that last over 200,000 miles. Here are some of the best:
Jeep Cherokee
Jeep has a big reputation for being off-roading capable vehicles, and for good reason. Jeep models are beasts. As long as you take care of them and do all the routine oil changes and recommended maintenance, they will run like champs. The Jeep Cherokee doesn't get the best mileage, but it is great if you're going to be driving through some rough terrain.
Chevrolet Traverse
Some might argue that the Tahoe outperforms the Traverse. But for families that still want the reliability of a 4×4 vehicle, the Traverse has all the space you need. Like all Chevys, if you take care of them, they'll last well over 200,000 miles. The Traverse has one bonus feature—decent gas mileage.
Chevrolet Captiva Sport
Again, this isn't necessarily the most popular Chevy SUV, but it is a great option. The Captiva Sport gets awesome mileage for an SUV, coming in at an average of 28 mpg on the highway. This model also allows you to maneuver tight spaces much easier while still being able to go off-road.
If you are interested in one of these or other used SUV models, contact us today to schedule a time to test drive one of our pre-owned vehicles.