Top Five Trucks to Haul Boats or Trailers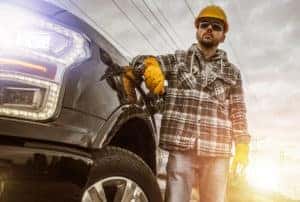 Summer is here, and the world is reopening. As state and national parks, lakes, and beaches reopen to the public, more and more people are going to be considering hitting the water with a boat or needing a trailer to take camping. If you are in need of a vehicle to tow a boat or trailer, here are the top five options you should consider.
Ford F250/350/450
There has been a debate for decades—Ford or Chevy? When it comes to the best truck for pulling a heavy trailer or a full-sized boat, you can't beat the Ford models F250, F350, and F450. The F450 can tow up to 19,000 pounds, so you can tow literally anything with that truck. The F250 is still powerful enough to tow most personal motor boats.
Dodge Ram
The Dodge Ram is the undisputed second place winner for trucks. Some might even say that the Dodge Ram is better than a Ford. Rams are built to be heavy duty trucks and SUVs. Most models have a towing capacity of at least 11,000 pounds. You'll be able to tow just about anything you need with one of these trucks, which also have some great safety features.
Chevy Silverado
The Chevy Silverado is the third most popular truck for towing trailers and boats. The Silverado has a great towing capacity. Most models tow at least 13,000 pounds, with some models towing up to 23,200 pounds. These trucks are often preferred by those in rural areas who tow large amounts of weight.
Ford F150
The Ford F150 isn't as heavy as the super duty line, but it is still a good truck with a towing capacity suitable for most hobbyists. This truck can pull up to 12,200 pounds, which is enough for most boats and loaded trailers.
Toyota Tacoma
The Tacoma is a compact pickup truck that has the towing power of a full-sized beast. It comes with either a 2.7 liter 4-cylinder engine or a 3.5-liter Atkinson-cycle V6 with 278 horsepower and 268 pounds per foot of torque. With this truck, you can tow anywhere from 3500 to 6800 pounds, depending on which engine and features you opt for. Any of the Tacoma models will pull a trailer, depending on how heavy you load it. The Tacoma with the bigger engine is best for towing a full-sized boat.
If you are looking for a new truck capable of pulling your trailer or boat, we have many models to choose from. Contact us today for an appointment with our salesman.