The Best SUVs for the Frequent Road Tripper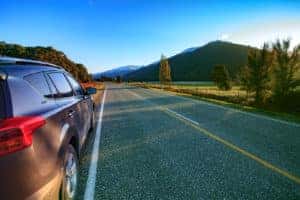 SUVs are a great option for people who like to go off-road or drive in difficult conditions, but they aren't always easy on the wallet. While you can pick up a pre-owned SUV with bad credit fairly inexpensively, the cost of operation can be substantial. Most of the biggest, heaviest SUVs have some of the worst gas mileage, making them horrible solutions for road trips.
Luckily, the last decade has seen a turn in the tide for SUVs. Now you can get SUVs and SUV-hybrids that offer the capabilities of the off-roading you love, while also offering better mileage and cheaper operating and maintenance costs. Here are some of the best SUVs with higher gas mileage.
GMC Acadia
When it comes to fuel efficient SUVs with tons of cargo space, you can't beat out GMC sport utility vehicles. The Acadia is great for road trips because it allows for lots of luggage or camping gear cargo space, but most importantly for families, you can easily keep children separated to cut down on arguments and whining.
GMC Terrain
The Terrain is another great GMC SUV model that is affordable for buyers, even with bad credit. The Terrain has more features for off-roading than the Acadia, but still offers decent mileage at 24 miles per gallon. The Acadia is more of a family SUV, while the Terrain was designed with the avid adventurer in mind. Of course, it still seats up to seven, or you can pull out the extra seats to make more cargo space.
Mercedes GLK
You would automatically assume that any vehicle made by Mercedes will be luxurious, full of great features, and have amazing gas mileage (average of 26 mpg/highway). The GLK is an SUV from the luxury model that checks all the boxes for savvy adventurers who like to road trip but also need a practical and luxury vehicle for daily city life.
Jeep Cherokee
Jeeps didn't always offer good gas mileage, but newer models in the last 5 to 10 years have seen vast improvements in fuel efficiency of these massive vehicles. The Grand Cherokee has long been the standard for off-roading SUVs, and some could say it was the original of the versions we see today. All told, this is the most durable beast you could take anywhere.
Ready to put yourself in a vehicle that will work for all of your needs? Contact us today for help choosing the best model for your and your family.