Picnic In The Back Of The Pick-Up
The van life was such an intriguing concept for a while, but now some adventurous types have started living out of their truck beds after constructing some basic amenities. Sure, you can't fit a shower or a cooking range, but the more skilled Tetris players can fit in things like a gas range, queen bed, and tankless toilet!
In case you have ever wondered what exactly are the essential details of a pick-up truck picnic, we've got the all the facts.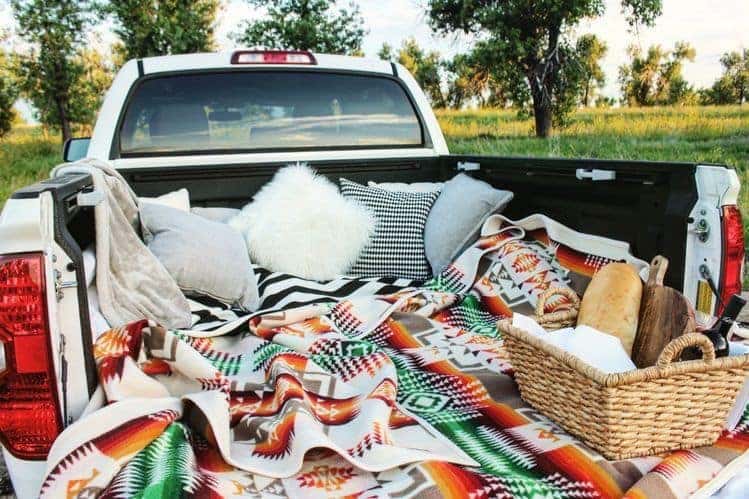 What is Pick-up Picnic?
It is a picnic in the back of a pick-up truck. Yes, there is such a thing. If you have a truck, that's fantastic. Otherwise, borrow one. That is precisely what people are doing nowadays! We guarantee this will be the most enjoyable picnic you've ever had with your family!
A pick-up truck picnic is a unique idea for a good time with your family!
The key to this date is to park the truck somewhere with a great view. It is advised to park in a very secluded park that is usually relatively empty and faces the water. You could also consider a more rustic setting with plenty of trees. Even a farm would suffice. Consider putting a barn in the background for a more rustic look.
Pick-up Truck Picnic Possibilities
Here are some of the unique ideas that you may use for a pick-up truck picnic:
You can weave a net hammock in the space above a truck bed with just a $30 spool of webbing or elastic. Many people repurpose ordinary cargo nets and string them together tightly to achieve the same effect. You can also use a net hammock and tie it to the front and back of the bed. Use heavy-duty elastic woven with many contact points around the rim of the bed for a more premium experience.
If you have a full hardtop cover, use it in the winter with a small space heater and some hot cocoa! Unlike an air mattress, this will never collapse in the middle of the night or fail to fit around your wheel wells.
Benches on an Open Tour Bus
This is a simple change that can be added and removed. The simple side of this is a basic wooden box that fits around the wheel well for kids to sit on during a fall hayride. The extreme version is two rows of carpeted or cushioned seats with an extra-tall bed cover fitted to a snow-tracked pick-up truck. It can be used as a shuttle for skiing and sledding; it's like a ski resort, but for free!
The possibilities are endless. The back-seat style is more popular, as is a center bench that allows people to face outward for activities such as caroling.
Movie Night
A simple movie night in the truck can consist of blankets, pillows, and popcorn. It can also be as elaborate as mounting a projector in the bed, installing surround sound on an iPad, or even backing up to a backyard drive-in with your truck buddies.
Keep in mind that you have a mobile advantage. I dare you to watch a horror film like Strangers late at night. Most grown men should avoid it. You could also take a date to watch 50 First Dates late at night on the beach!
Checklist for a Pick-up Truck Picnic
Everything must be brought with you. Here's a checklist to get you started:
Decor:
For the floor, use a blanket or a tablecloth.
In case it gets cold, brings a blanket.
Small tables made from crates
Candles
Napkins
Flowers to sit on Pillows
If your picnic lasts past sunset, bring patio lights.
Picnic food and beverages:
Large serving platter
Cheese
Fruit
Bottles of water
Glasses for wine
Crackers
Pretzels and hummus
Sandwiches in miniature
Picnic Food Ideas
These picnic recipes are portable and casual, making them ideal for a picnic menu. You can create a memorable mobile feast using these recipes.
It's all about the name! Whether you sandwich it between two slices of bread or spread it on toasted baguette slices, this simple, old-school egg salad recipe will fit right in on your picnic spread.
These healthy homemade granola bars will keep everyone full all day, and there are three flavor options to please everyone in the family.
Put a Tupperware container of pimiento cheese and a variety of crackers in your basket, and you're ready to go. You could also use this favorite spread to make portable sandwiches.
Because they're so easy to toss in a tin and take with you, cheese straws are an all-time favorite Southern snack for parties, hostess gifts, and any other occasion.
Salad of Cheese Puffs with Ham
This classic recipe is delicious, nostalgic, and simple to pack and take to the park in zip-top plastic bags for a filling lunch.
Panini with smoked chicken and basil mayonnaise
This panini recipe calls for freshly grilled chicken, but you could save time using rotisserie chicken from the fridge.
Whether you make the traditional version or one of our variations—Golden Curry Turkey Salad, Pickle-and-Dill Turkey Salad, or Fruit-and-Nut Turkey Salad—you'll love it.
The Bottom Line
So, you can turn your truck bed into a fun date night, a family party, or even a full-fledged business. Any of these can be done for less than $100 and a few tools; hopefully, they'll inspire you to try something new. Who can say? You could start a new trend!
Find a pick-up truck to fit your family's needs at any Car Credit Tampa Bay location:
3923 East Hillsborough Avenue, Tampa
2902 West Hillsborough Avenue, North West Tampa
2008 US Highway 19 North, Holiday
108 North US Highway 41, Ruskin