Now That New Cars Are Back To Full Production, Why Is It Still Smart To Buy A Used Car?
It can happen to anyone at any time. The old clunker sputters to a halt on the side of the road, leaving you to face a costly reality: you need new wheels. A brand-new car may sound be appealing, but your know-it-all friend says buying used is the better long-term option.
Choosing a used car over a new vehicle is an excellent option for many drivers. As inflation rates in the United States reach new highs, Americans feel the effects at the grocery store and the gas pump. And, according to Kelley Blue Book, with new vehicle prices expected to hover around $47,000 in the coming year, now may be an excellent time to save money by purchasing a used vehicle.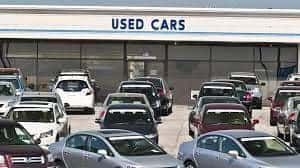 Why the used car is preferred over a new car
Purchasing a high-quality used car is frequently a better investment than purchasing a new car off the lot or leasing a new car. Here are some of the reasons why.
Vehicle depreciation is reduced.
Vehicle devaluation is inevitable, but a used vehicle loses value much less than a new vehicle. When new cars are driven off a lot, they lose about 20% of their value. In the first year, many cars lose another 10% of their value. That equates to a 30% drop in value during the first year of ownership.
A used vehicle depreciates much more slowly than a new vehicle. Unused cars depreciate as soon as they are driven off the lot, but used vehicles lose value more slowly, resulting in a more stable loan-to-value ratio.
More value for your money
Another significant advantage of purchasing a used car is the ability to stretch your car-buying budget. You might even be able to take yourself off chauffeur duty and get your teen her own car if you buy a used vehicle rather than a new one.
If you want a luxury vehicle, you may not be able to afford the current model, but a couple of years old may be more affordable. It's also worth noting that carmakers are no longer redesigning their models yearly, so the technological and aesthetic differences may be less noticeable.
The Internet makes it simple to research a vehicle's accident history.
Previously, it was a bit of a mystery if the vehicle you were considering had been catastrophically damaged and repaired. But not any longer.
With the VIN (Vehicle Identification Number) and internet-based tools like CarFax and Carproof, you can quickly check the history of each vehicle you're interested in and ensure that it hasn't suffered any catastrophic damage under a previous owner.
Take the worry out of pre-owned
If you are still concerned about hidden problems in a used vehicle, Car Credit Tampa takes the guesswork out of it for you. Under their Limited Maintenance Agreement, Car Credit will take care of the basic needs of your car so you don't have to worry about it. For the first two years that you own your car, Car Credit Tampa will:
Change the oil and the filter every 6000 miles or 6 months, whichever comes first
Inspect your brakes, including replacing brake pads and/or drums, resurfacing or replacing brake rotors and/or drums, rebuilding or replacing brake calipers, and rebuilding or replacing the brake master cylinder, every 6000 miles or 6 months, whichever comes first
Inspect your belts every 6000 miles or 6 months, whichever comes first
Give your car a tune up at any time within the 12-month period, and will replace spark plugs, ignition plug wires, coils, and fuel filters as needed
This agreement lasts for two years after you buy your car from Car Credit, and covers you even after accidents up to 20% of the value of your vehicle.
Better Financing Requirements
Interest rates on used vehicles are typically higher than those on new vehicles. Still, used vehicle interest rates are very competitive, and you can usually negotiate low down payments and extended repayment terms to get a fantastic deal on your used car financing.
The insurance cost depends on your age, driving history, credit score, mileage, and location. Insurance for a used vehicle is typically less expensive than insurance for a new vehicle, just as the vehicle is less expensive. The car's value is an essential factor in determining the cost of car insurance. Because a used car is less valuable than a newer model, insurance should be less expensive.
Regarding recommended coverage, if your vehicle is older, you may want to consider only liability coverage if your state allows it rather than comprehensive and collision coverage if your vehicle is newer. However, insurance rates are not always consistent, so compare rates and research your expected auto insurance cost before driving off the dealership to save money.
Should You Purchase a New or Used Vehicle?
Consider both the initial and ongoing costs when deciding whether to buy a new or used vehicle. There are costs when purchasing any car:
Taxes, title, and fees due at closing
Automobile insurance
Maintenance
Repairs
Oil and gas
In terms of repairs, a new car may be less expensive, at least for the first few years. When the vehicle requires significant repairs and maintenance, you may be ready to trade it in. If you pay cash, a used car may cost you more maintenance but fewer interest charges on a loan. So, when calculating the cost of buying a new car versus a used car, consider all the variables.
The Bottom Line
Purchasing a used vehicle is an excellent way to get behind the wheel without spending as much money as you would on a new vehicle. You will experience less vehicle depreciation and less cost for insurance and registration while remaining confident that your vehicle is in good condition.
When purchasing a used vehicle at Car Credit, you can be sure you're getting the best deal possible. Visit any of these Tampa Bay locations:
3923 East Hillsborough Avenue, Tampa
2902 West Hillsborough Avenue, North West Tampa
2008 US Highway 19 North, Holiday
108 North US Highway 41, Ruskin