Interiors: Leather vs. Cloth with Kids
Buying a car is never easy, but it becomes even more complicated when one has children. Parents make some significant mistakes when purchasing a new vehicle for their family, such as failing to conduct preliminary research to determine what type of seats are best for those with children.
Parents shopping for a car must consider many factors when choosing their upholstery, including whether they want leather or cloth seats in their vehicle. Some prefer leather seats, while others prefer cloth seats. Both of these can work for people who have children.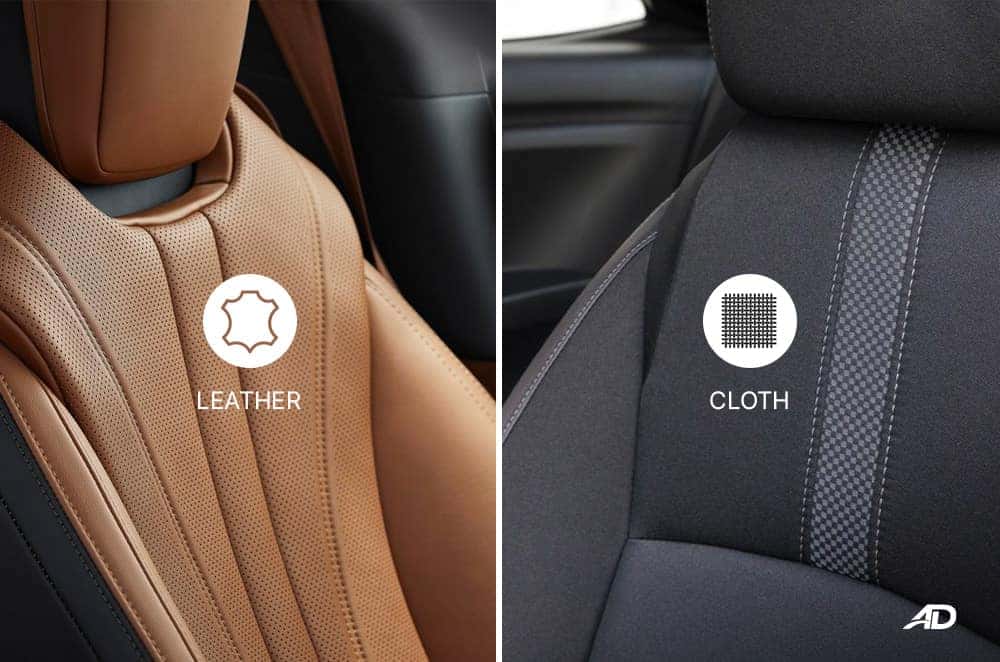 What exactly is cloth?
One of the most common types of upholstery used in car seats is cloth. It is considered inexpensive and straightforward to repair.
Cloth car seats are not particularly luxurious, but they may be more practical for families with children and pet owners. Vehicle seats are made from a variety of cloth materials. These materials include nylon fabric, faux vinyl fabric, PVC fabric, and vinyl fabric.
What essentially is leather?
Leather is a prevalent material used to cover the seats of a vehicle. It always represents a luxurious aspect and provides a beautiful vehicle interior.
Leather is made from chemically treated animal hides, most of which come from cows.
While most leather is known to be of high quality, several factors influence the final leather product's quality. Some of these factors include the type of animal, the environment in which the animal lives, and the skills of the workers who produce the final leather.
The comfort comparison between cloth and leather
Both cloth and leather seats can be comfy, but luxury vehicles are so often associated with comfort, and the majority of luxury vehicles have leather seating.
Keeping this in mind, leather can actually be pretty uncomfortable in direct sunlight, especially during the hot summer when temperatures soar. Synthetic leather can cause vehicle interiors to heat up outside of the seats, forcing passengers to blast the air conditioning hard enough to cool everything quickly. The kids will complain loudly until the car temperature cools down!
Where you live matters
Car buyers living in hot or cold climates face a difficult decision. Do you opt for the lovely leather interior, risking burning your bare skin or sitting on a frozen seat? Do you only use cloth car seats during the year's hottest months?
On hot summer days, the inconvenience of black leather vehicle interiors can be detrimental to your comfort, but they do look good when not in direct sunlight. During the summer, any vehicle interior has the potential to become extremely hot, but cloth seats help you avoid the leather burns that many of us have experienced – you do NOT want the children to get burned by your upholstery.
Cold weather is more tolerable because the upholstery type does not make much difference. Despite the fact that leather can make a car seat feel colder on the inside, many vehicles with leather seats include seat warmers.
Maintenance cost
Leather typically increases the value of a vehicle when purchased, but it also necessitates regular cleaning and maintenance – a downside for families with young kids.
If you do not regularly maintain the leather in your vehicle, you will notice that it begins to fade or has tears and cracks. Furthermore, leather absorbs stains, making it difficult to clean. Cleaning leather necessitates using specialized materials, which can be costly and must be tested before being applied to the leather. Otherwise, you risk permanently damaging your leather.
If you don't have much experience cleaning leather, you can hire someone who does. However, this will increase your costs.
Aesthetic appeal
In terms of appeal, leather is the clear winner. Even if you don't want to buy a new or used car with leather upholstery, it is almost universally acknowledged as a more luxurious option than cloth. Of course, this is mainly due to the additional cost, but overall appearance and feel also play a role.
Although cloth and fabric seats can be just as sporty and stylish as some leather seats, hand-stitched leather in high-end luxury vehicles cannot be matched in terms of overall appeal. Genuine leather seats do not usually come with the fun patterns, colors, and designs that cloth seats do, but that is fine with most people who can afford genuine leather.
Aside from the increased general appeal of leather seats, cars with cloth seats often have fewer, more excellent interior surfaces. This is not always the case, but because cloth seats are typically found on lower trim levels, more cost-cutting measures are used throughout the vehicle, lowering its overall appeal in places other than the seats.
Health considerations
One of the most significant benefits of riding in a vehicle with leather seats is that allergens are not trapped. This feature makes the leather very comfortable for people who suffer from allergies – a serious consideration for families with children who suffer from allergies.
On the other hand, cloth is a very porous material that traps allergens and dust. Even if they tried to evacuate the dust, individuals who are allergic might find it difficult to ride in cars with cloth seats.
Value at Resale
Regarding resale value, leather upholstery does not always guarantee a higher price when selling or trading your used car. A well-maintained vehicle interior can mean several thousand dollars more at the dealership, but getting more for leather depends on whether the surfaces are in good condition. Vehicles with well-maintained top-grain leather can have a significant impact on resale value, but it's a challenge to maintain mint condition when your kids and their sweaty soccer friends are regular passengers.
The Bottom Line
There are many factors in determining whether leather or cloth seats are best for you and your family. When considering cost, maintenance, cleaning, climate, and comfort, cloth seats are likely to take home the trophy. But that doesn't mean leather has to give way to cloth. Many people prefer the luxurious look, smell, and feel of genuine leather and believe the extra cost is worthwhile.
When considering the kids, it is wise to go for something that can be comfortable, but easy to clean – those spills are inevitable!
There are plenty of great cars with leather and cloth interiors at all Tampa Bay area Car Credit locations:
3923 East Hillsborough Avenue, Tampa
2902 West Hillsborough Avenue, North West Tampa
2008 US Highway 19 North, Holiday
108 North US Highway 41, Ruskin