How to Get Your Vehicle Road-Trip-Ready This Summer
The sun is shining. Far-off destinations are calling. You're ready to hit the open road.
Or are you?
Before you set off on a trip, make sure your vehicle is prepared for the journey. Make a pre-trip stop at your mechanic's shop to ensure your car is mechanically sound. This includes checking the tire pressure, water level, oil, and brakes. Once the mechanic has given the green light — and you've packed your road-trip essentials — you're ready to explore.
According to a study by OnePoll in conjunction with Quaker State, the average American spends nearly 23 hours on road trips with the family each summer. Whether you're heading out solo, with a group of friends, or on a family vacation, some planning and smart packing can make your time in the car more enjoyable. The products and tips below can even bring you some peace of mind.
Here's what to pack for your trek.
Eating on the Go
In-Vehicle Dining Must Haves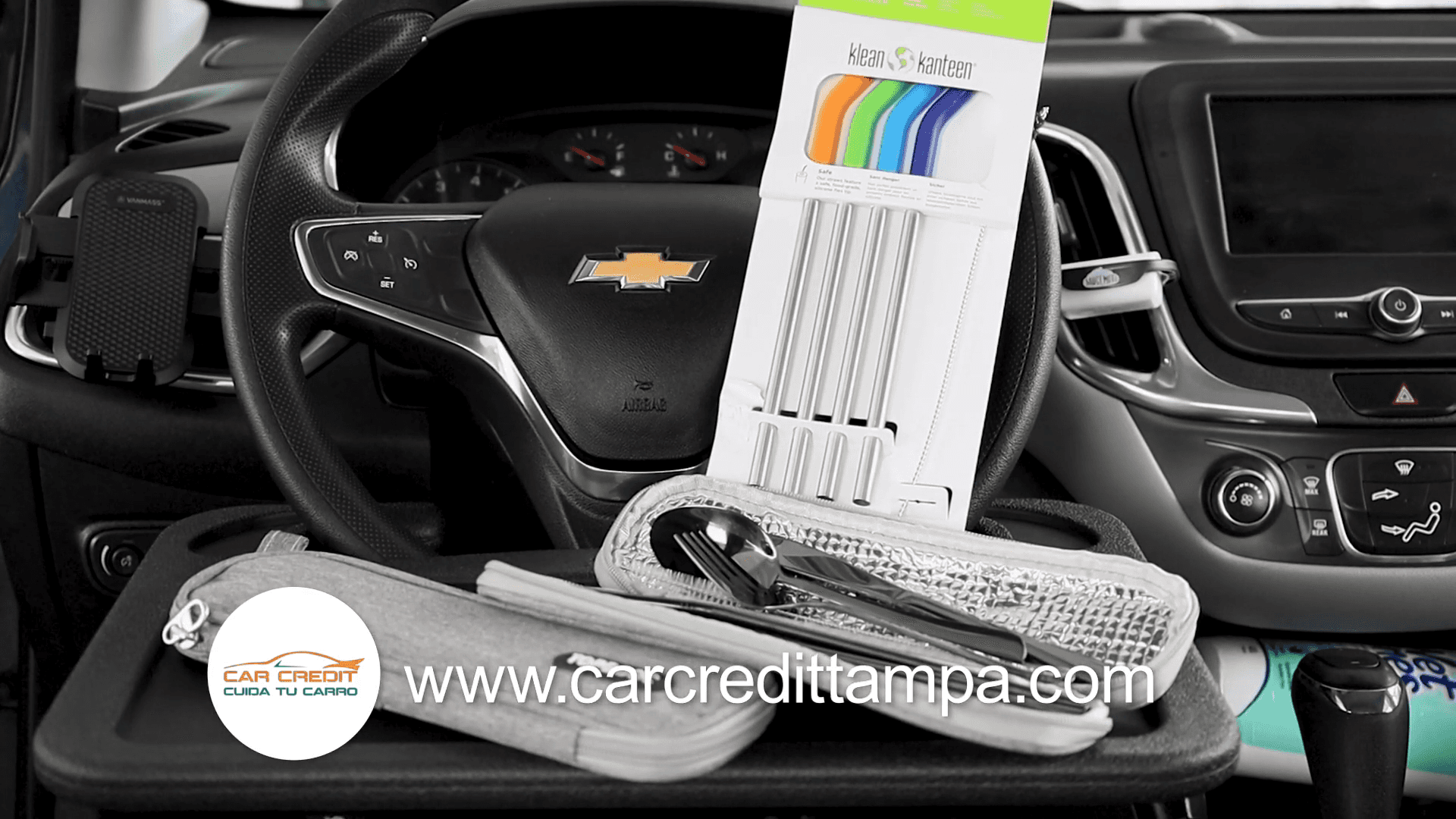 How often have you ordered takeout just to realize they forgot to give you plastic silverware, straws, or napkins? And how often have you tried to balance your food on your lap as you ate in the driver's seat? Avoid these pitstop pitfalls. Prep your car for mid-trip snacks and meals.
Cooler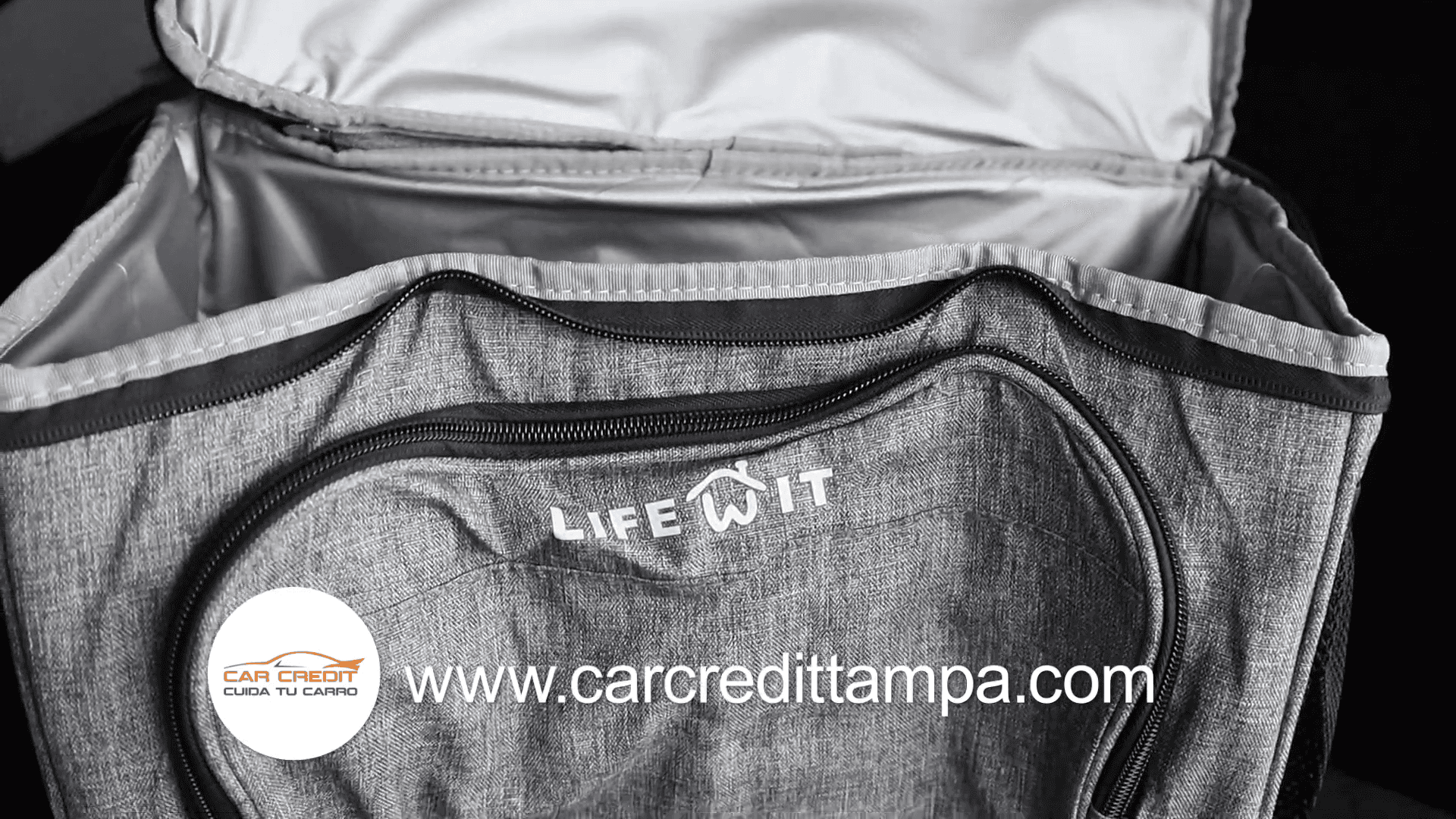 Fill a cooler with your favorite beverages and snacks. We recommend using a soft, lightweight cooler for easier passing back and forth between passengers. Keep your food cool for up to 12 hours with the Lifewit 32-can Collapsible Double Decker Cooler Tote. It holds all of your drinks and snacks in three leak-free, easy-to-access compartments. Use the sections to keep dry food far from packed liquids. Or store your kids' snacks in the top pocket for a less stressful snack time.
Portable Fridge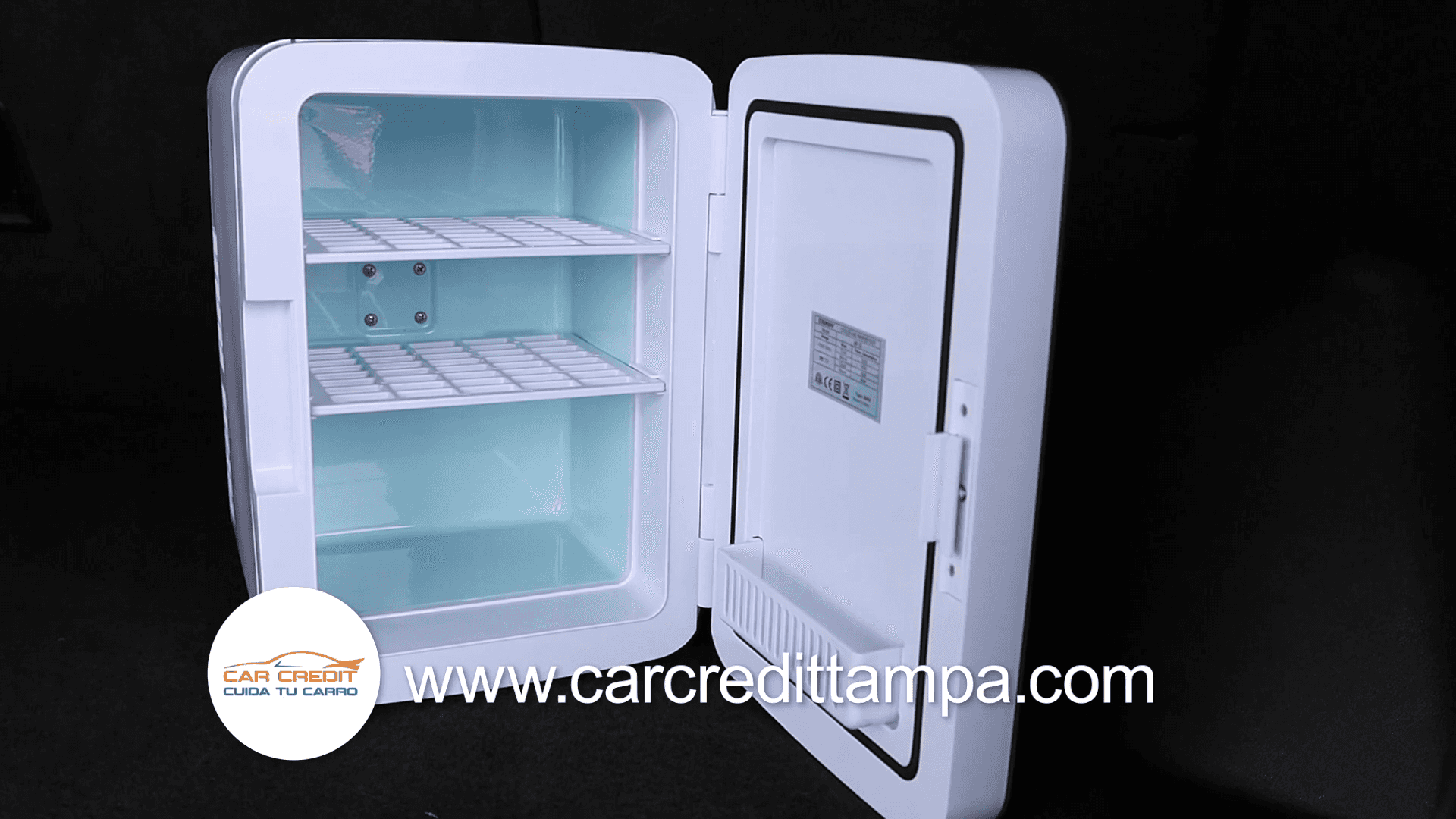 For especially long trips, consider purchasing a portable fridge that plugs into your car. Unlike a cooler tote, they never run out of cooling capacity (as long as they are plugged in, of course!). Feel free to bring along your favorite dairy products and other refrigerator-required groceries from home. This will help cut down on stops and save you money. Also, some, like the Euhomy Mini Fridge, come with a warming mode, meaning you can keep restaurant leftovers ready to eat. Portable refrigerators are also ideal for those traveling with medications requiring refrigeration.
Creature Comforts
Travel Pillow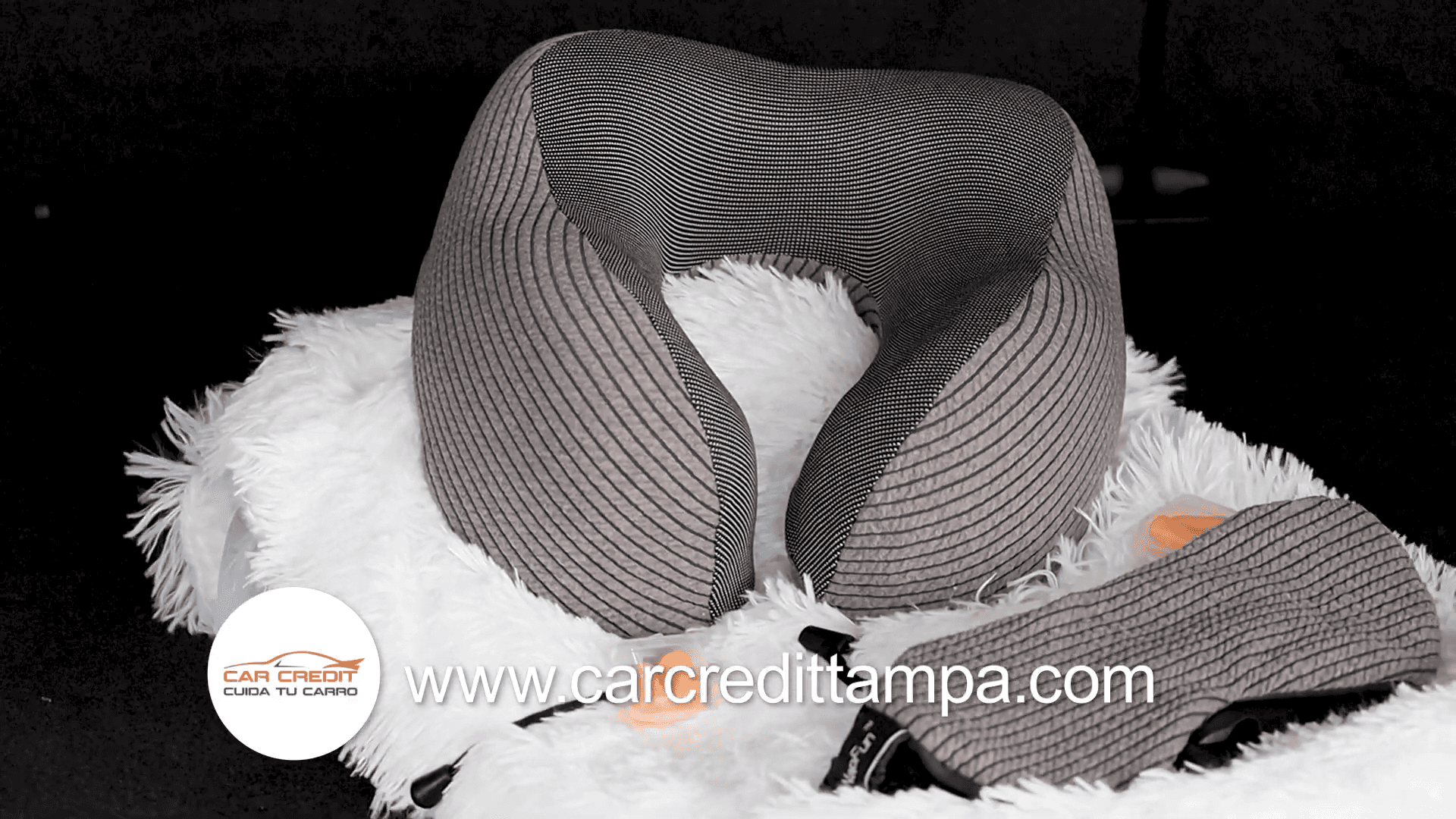 Cozy blankets and soft pillows make napping — or even curling up to read a book or watch a movie — more comfortable. If you are lucky enough to get a window seat, a pillow from home or balled up hoodie could serve as adequate cushioning. But if you end up in the middle seat, or want to avoid a crick in the neck, we recommend getting a memory-foam travel pillow that provides 360 degree support.
Toiletry Bag

How can you tell when someone's been on a long car trip? Too often, the answer is a case of driver's sunburn (red on one side of your body). To avoid this, keep sunscreen nearby ready to use at each rest stop. And while you can't take your home medicine cabinet with you, it's a good idea to travel with some self-care basics. Pack a durable, organized toiletry bag with these:
medical needs (an inhaler, EpiPen, and prescribed medication)
OTC painkillers and allergy meds
toothpaste, toothbrush, and floss
tissues
lip balm
body wipes, baby wipes
small hairbrush
tweezers
sun lotion
bug spray
hand sanitizer
a roll of toilet paper or two (not all rest stops are well-stocked)
Trash Can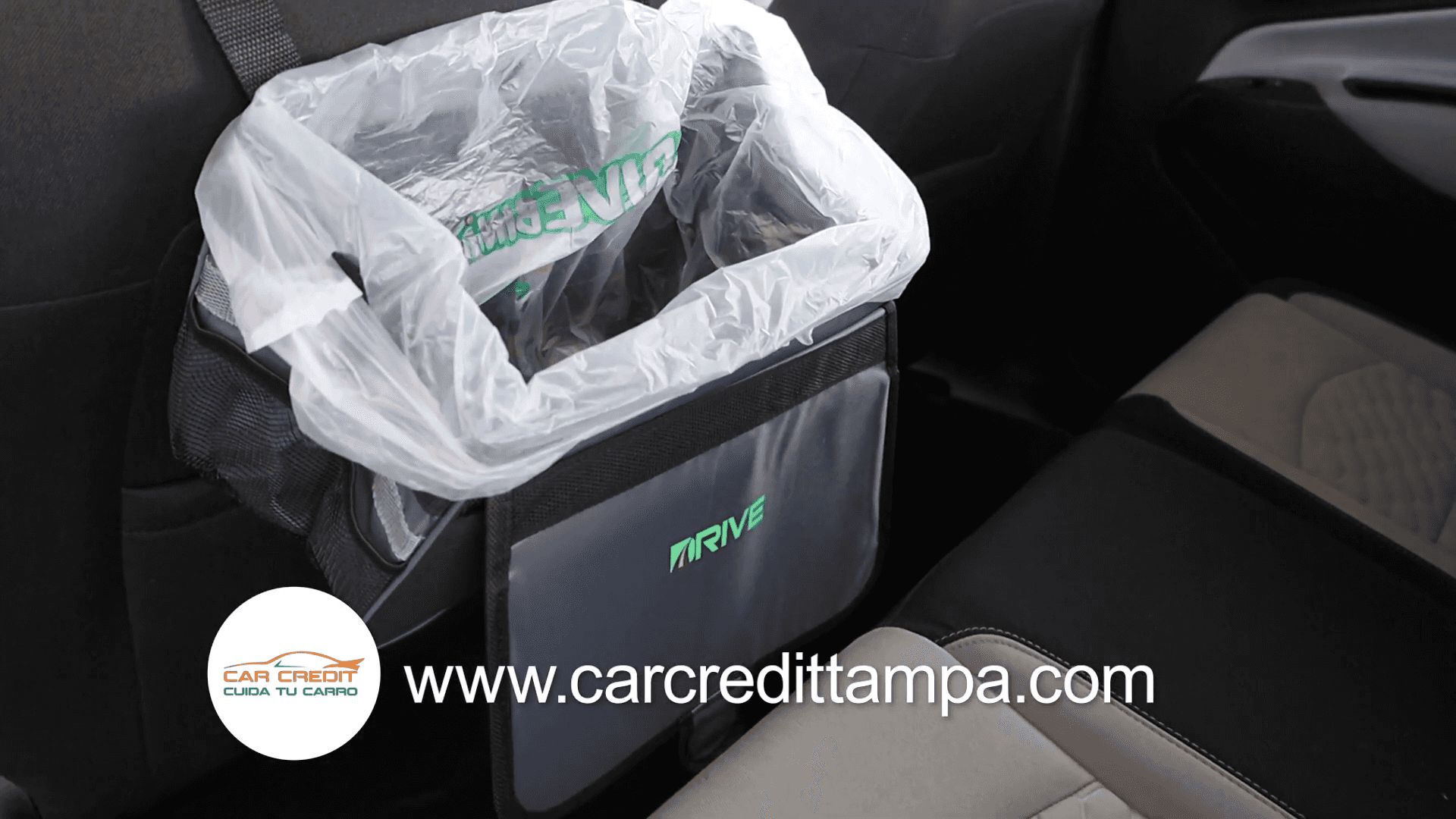 Wrappers, napkins, and other garbage can begin to pile up — especially when you're travelling with a large family or group of friends. To keep trash in its place, we recommend keeping one large trash can in the front of the vehicle, and one in the backseat. We like Drive's extra-large containers because they are leak-proof and come with a roll of disposable liners. Plus, they work with everyday grocery bags — another thing that accumulates on long drives.
Of course, the best way to keep a vehicle tidy is to start with a clean interior. So, clean your cloth or leather upholstery before you go.
Entertainment
DVD player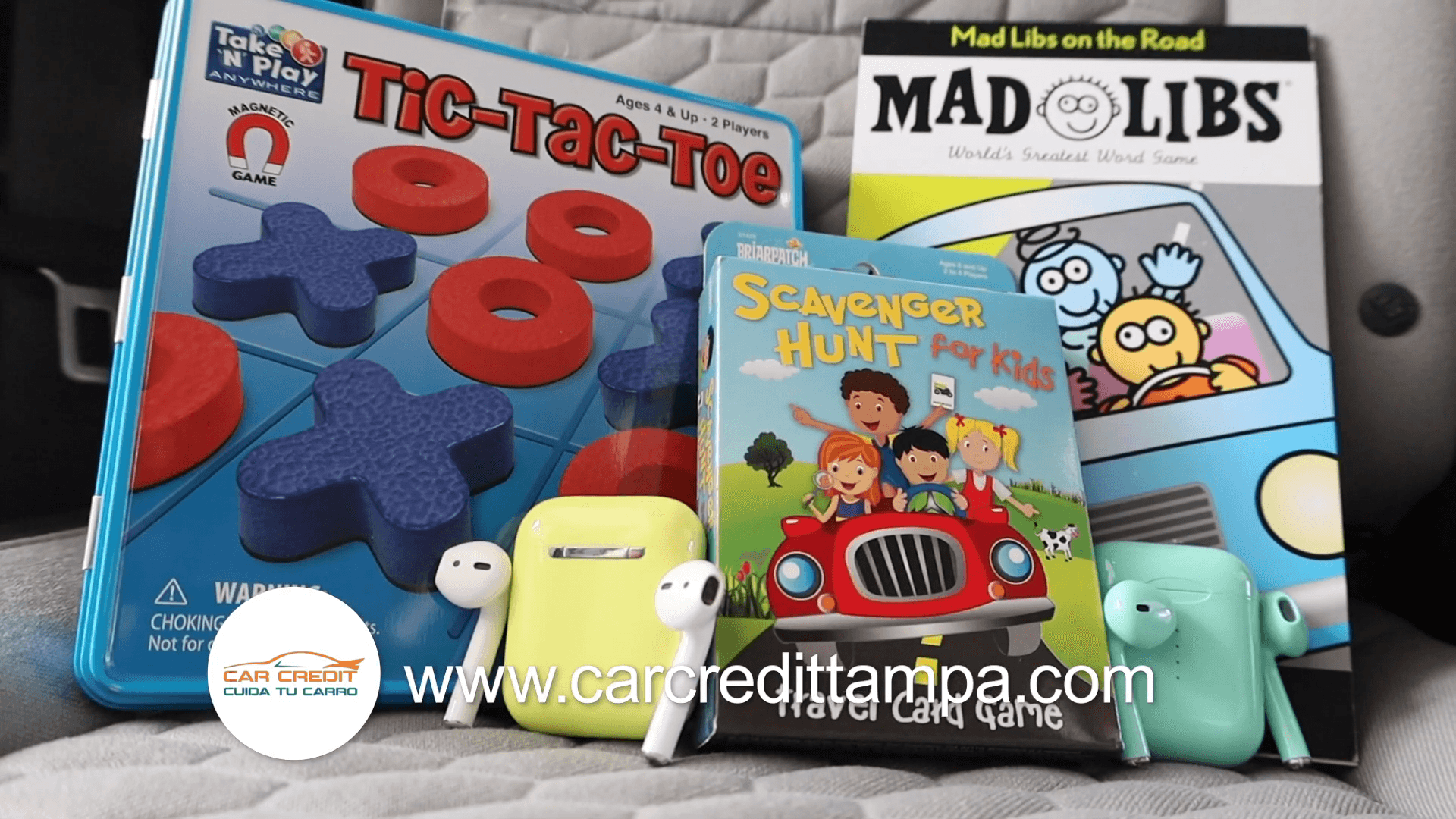 Movies are a great way to pass the time on a long drive. Keep passengers (especially kids) entertained with their favorite flicks. Hang a portable DVD player from each headrest for hours of viewing. This dual DVD player lets you watch the same movie on both monitors using connecting AV and DC cables. One fully charged monitor will last up to five hours. Two connected monitors will play for up to three hours on one charge. Find your movie of choice on Amazon Prime Video.
A Good Book
Who doesn't love a good book? Hardcover, paperback, or digital, a well-crafted story makes the time fly by. If reading on the road makes you queasy, you can still enjoy a book without the Dramamine. Just choose an Audible book to listen to on the way. Tip: Download audible books to your mobile device before you leave, in case internet service is spotty.
Wireless Bluetooth Earbuds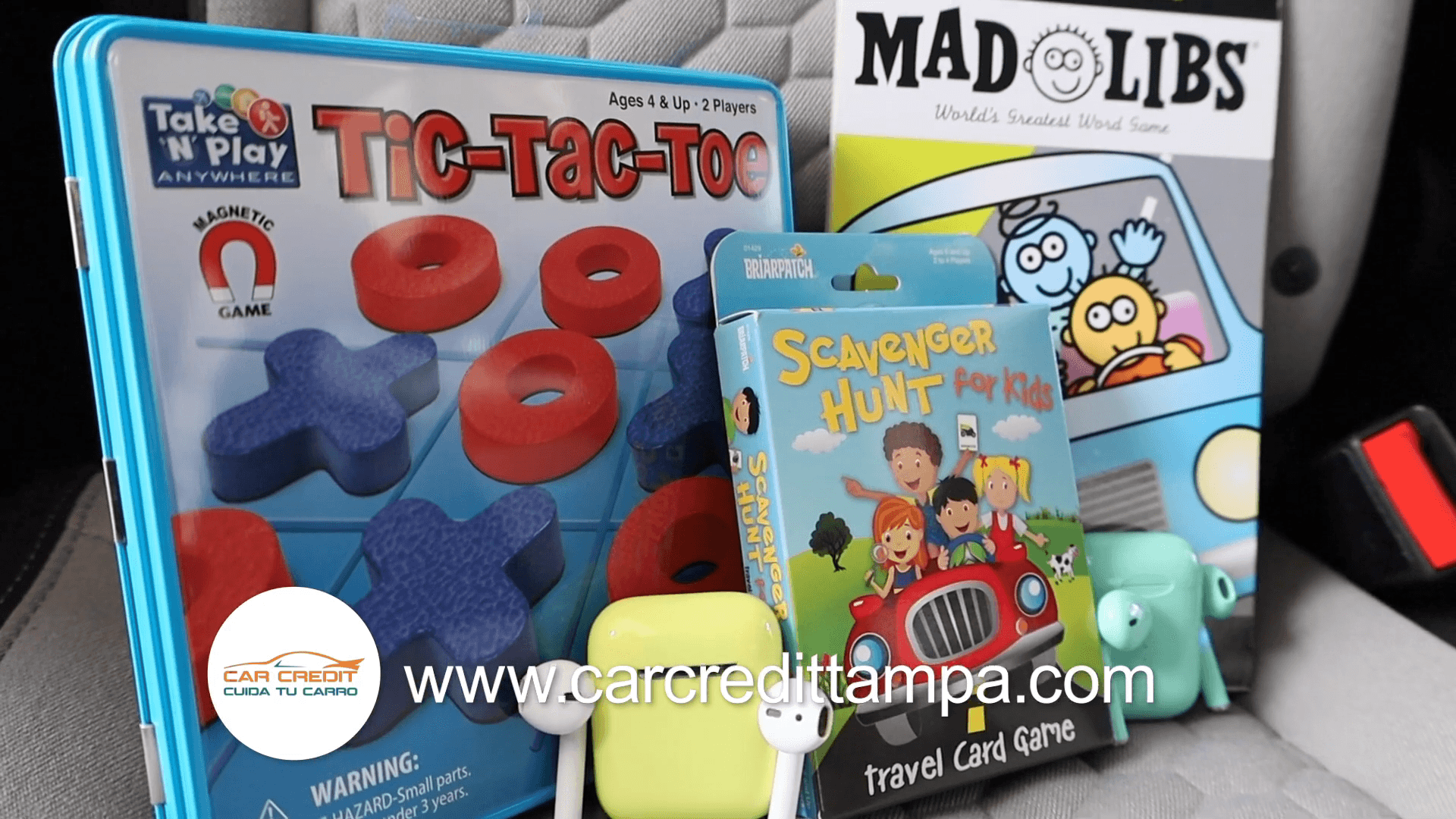 Not everyone's in the mood to hear the same listening material at the same time
(or has the same taste). Wireless earbuds mean one person can rock out while another listens to an audio book and another takes a nap. Simply pair the earbuds to your media player (car radio, tablet, DVD player, or smartphone).
Travel Games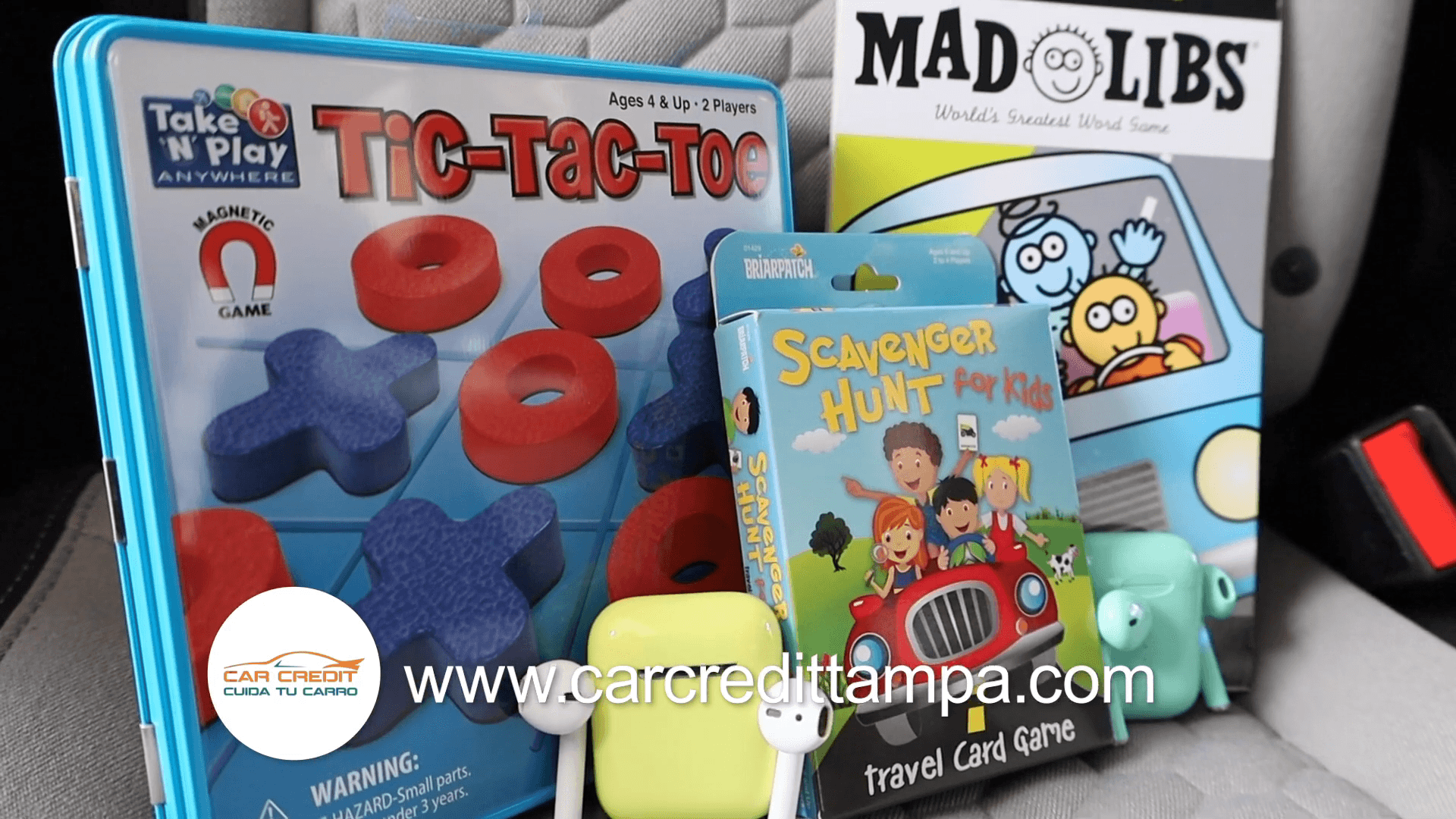 Keeping kids entertained on long trips can be a major stressor. When you've tired of electronics — and bored of playing the license plate game — opt for good old-fashioned analog games. Magnetic games keep pieces in place as you play. A scavenger hunt travel card game elevates I spy, and keeps kids engaged in the surroundings they pass. To get the whole family in on the fun, try the road trip edition of Mad Libs. Trade groans and "are we there yets" for giggles and belly laughs.
Smartphone Photo Printer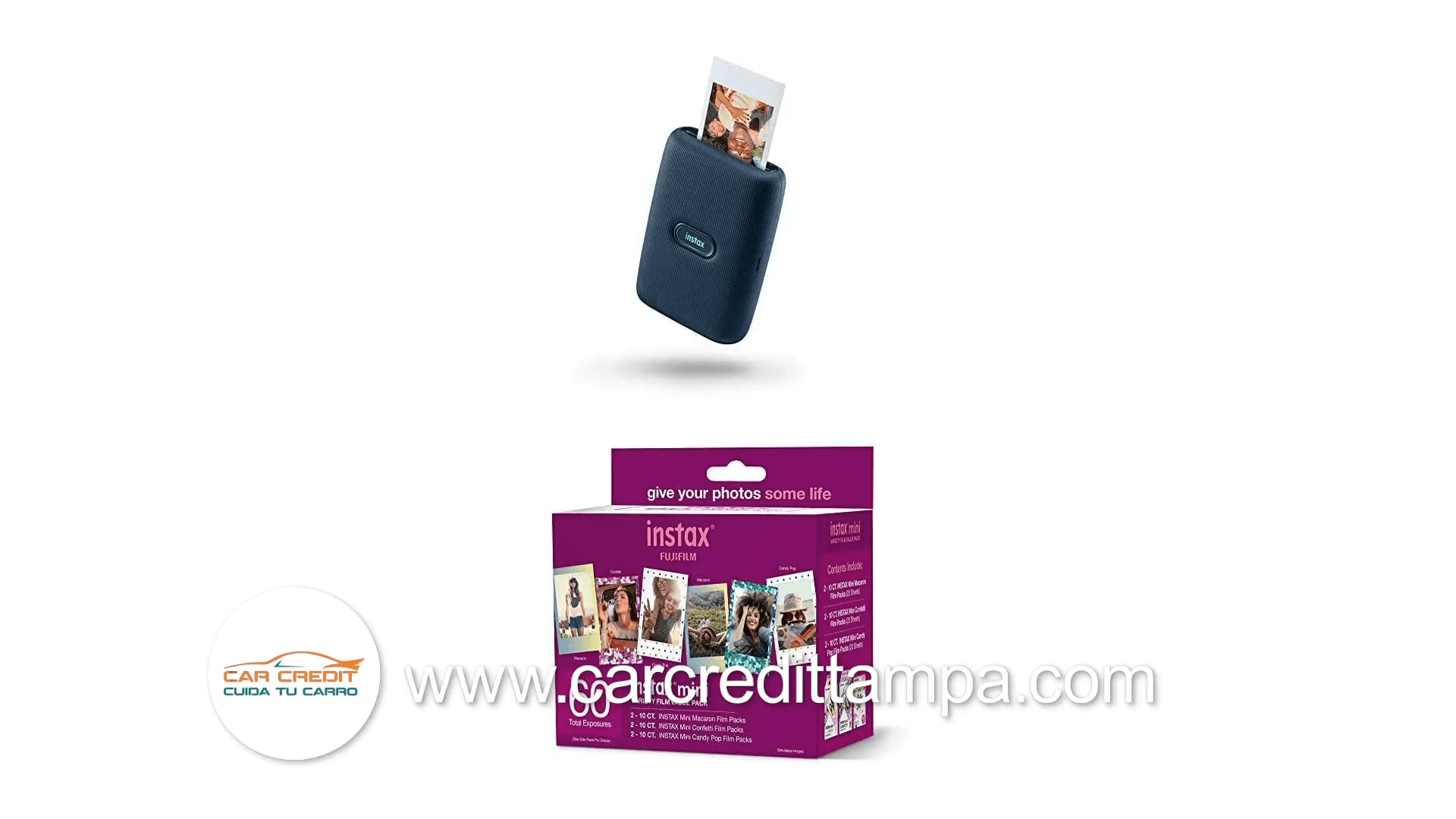 Wherever you go, however many stops you take along the way, capture the memories. You don't have to travel with a heavy DSLR camera or even a camera at all! Take photos with your phone and print Polaroid-inspired, scrapbook-worthy photos using the Instax Mini Smartphone Printer and app.
Safety
Antimicrobial Keychain Tool
A gas station bathroom door handle. An ATM keypad. A checkout touchscreen. Let's be honest; there are some things you'd rather not touch while travelling. That's when an antimicrobial keychain tool can come in handy. CleanKey's Copper Alloy Keychain Tool lets you push buttons, pull levers, and even sign your name on touchscreens — all while avoiding germs. The uncoated copper surface is inherently antimicrobial and easy to wipe down with a disinfectant wipe.
Key Locator
Nothing brings your road trip to a screeching halt faster than a lost set of keys. To make sure you always know where your keys are, use a key holder with Tile™ smart location. We like the KeySmart Pro Compact Key Holder. If you misplace your keys during an impromptu stop at a roadside attraction, you can recover them quickly via map or by pushing a button to hear them ring. Just charge and pair your keychain before you hit the road.
We also recommend travelling with an extra set of car keys on a separate key ring — on the off chance you accidentally drop your keys into the Grand Canyon or Atlantic Ocean.
Hands-Free Phone Mount
A phone mount keeps your smartphone close, yet safely hands-free. Suction cup the device to your dash or windshield, or clip it to an air vent for stable support. Whether you're following along on your GPS app or taking a phone call via speaker, you can keep your hands firmly on the wheel where they belong.
GPS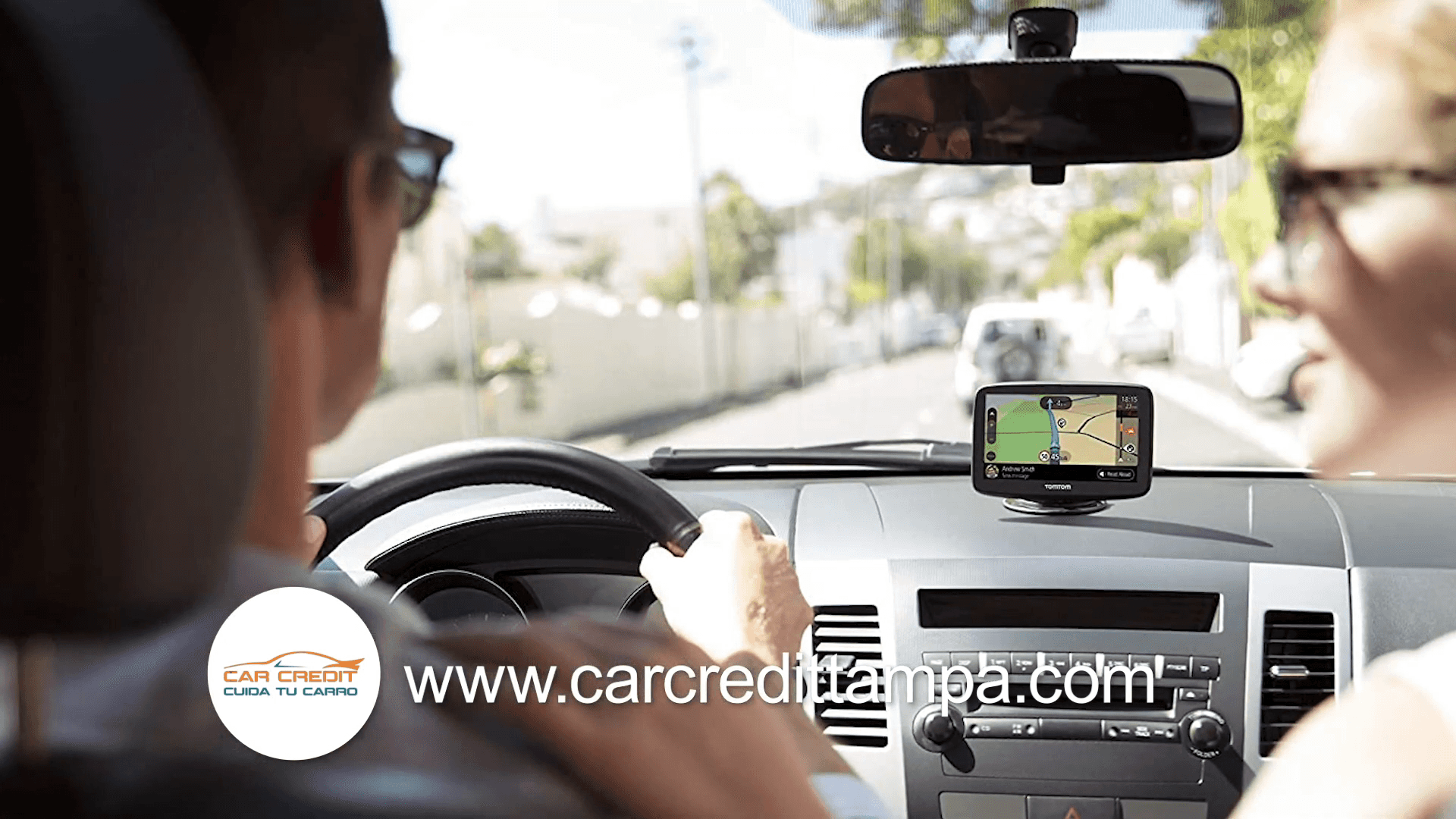 Though today most drivers use their in-dash GPS or a smartphone app to navigate their way, an external GPS device could be a good option if your vehicle doesn't come GPS-equipped or you'd rather not use your phone. Whatever GPS option you choose, be sure to keep a paper map of your route in the vehicle for emergencies.
Car Care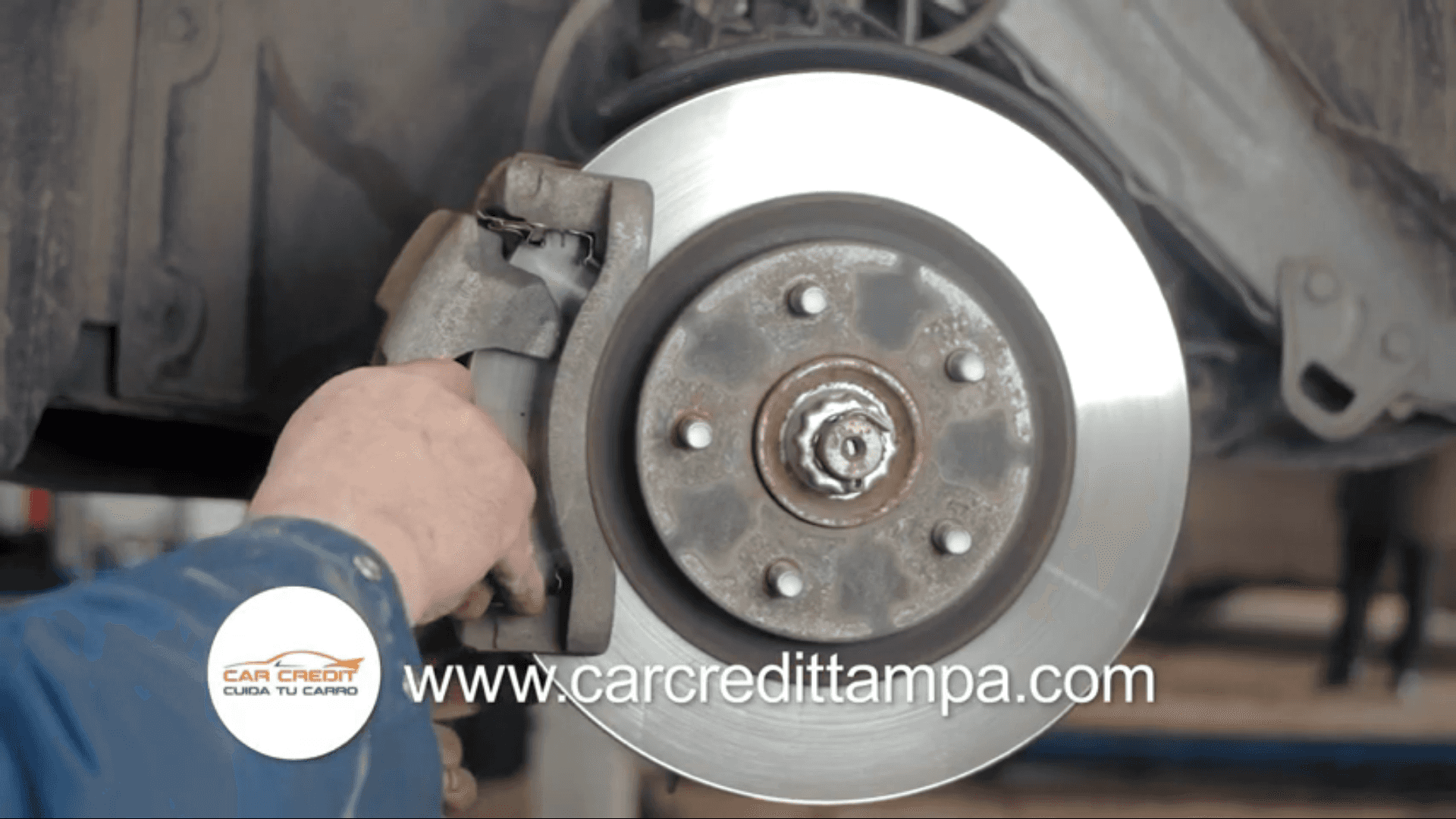 There are 47,000 miles of interstate highway in the US. You don't want to get stuck unprepared on the side of any of them — let alone a small country road. For emergencies and the unexpected, be sure to pack these:
A Jug of Coolant or Water
A Well-Stocked Emergency Kit
A Good Spare Tire
Your Driver's License and Registration
A Copy of Your Car Insurance Policy and Contact Numbers
Your Vehicle's Manual
Roadside Assistance Card and Phone Number
Cash and Coins — for air pump machines, parking meters, and tolls
Disclosure: This post contains affiliate links that earn a small commission at no extra cost to you.