Car Credit's Vehicle Spotlight: The GMC Acadia Denali
Car Credit offers a wide range of high quality vehicles at affordable prices, even to people with no or low credit. We can't wait to tell you about all of the great options we've got ready, so once a month Car Credit will be taking a deep dive into the specs, details, and perks being offered on one of our favorite vehicles. This month the lucky contender to be examined is the 2017 GMC Acadia Denali.
The summit of Mount Denali sits at over 20 thousand feet, making it the highest point in all of North America, an apt descriptor for the 2017 Acadia's trim level namesake, since it is the peak of American ingenuity, performance, and comfort. The Acadia Denali is an ambitious mid size SUV, that combines the best qualities of several different vehicle classes with almost none of their respective drawbacks. This vehicle's smooth curves, deceptive shape and luxurious attention to detail might lead some to conclude that the Acadia is but a show horse, intended only to be a status piece for the rich and influential, pretty but capable of no real work at the end of the day. Yet its impressive engine capabilities, surprisingly spacious interior, and unmatched versatility make the Acadia the perfect choice for large families, industrious entrepreneurs on the go, energetic local clubs, spooky cult gatherings, and so many more! With a stylish, comfortable cabin, excellent safety ratings, a remarkably reliable and powerful engine and drivetrain, and room for up to seven passengers plus all their belongings, the Acadia Denali is so much more than just a pretty face. This showhorse has also been cleverly engineered to adapt to and thrive under any circumstances you could think of to test it under, so without further ado, let's dive into everything the GMC Acadia has to offer you!
An Elegant Blend of Luxury and Practicality
The Sports Utility Vehicle, or SUV as it is more commonly known, has been a beloved staple of American roads and communities since the very first iterations of the concept were introduced to markets way back in the late 1930's. These first pioneering models were intended to ease the burdens of carpooling commuters and large families by offering extra size and space to those who needed a little bit more without breaking the bank. Since those early days, the popularity and diversity of SUV models have only continued to grow alongside American culture.
The GMC Acadia represents the culmination of that nearly century-long, and still ongoing process of SUV evolution. The wonders of modern engineering and technology allow the Acadia to be smaller and sleeker than the large boxy styles of SUV that dominated the 90's and early 2000's, without sacrificing any of the benefits that made those older models great. One such advantage of older SUV models that the Acadia has kept uncompromised is its vast interior space. Much like the TARDIS in the beloved British science fiction series Doctor Who, the Acadia's slim profile and remarkably engineered interior can give it the impression of being bigger on the inside than the outside. These remarkable feats of interior and exterior design allow Acadia drivers to carry absolutely everyone and everything they need, without having to endure the cumbersome size, handling, and gas mileage of older SUV models.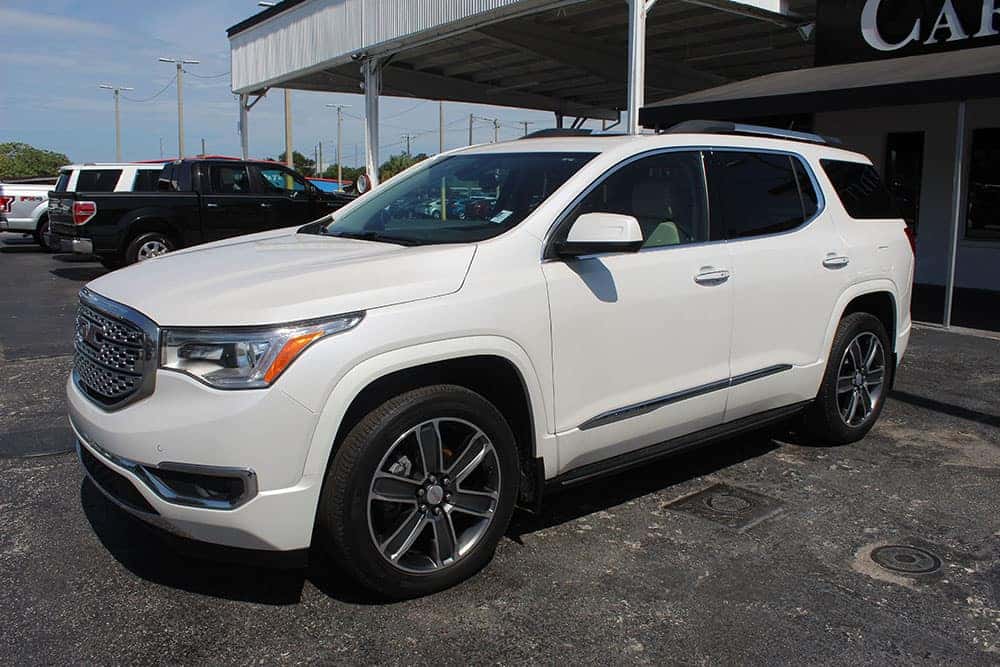 Speaking of science fiction, the technology implemented even in "older" models of the Acadia, like the 2017 Acadia Denali, are advanced enough to leave even Mr. Spock seething with jealousy.  To start with, an ergonomically designed and intuitive digital control center gives the driver any bit of data they could possibly desire, and a large central touchscreen puts all the information and amenities of the 21st century at your fingertips.  The technological marvels don't stop after the first row of seating though; with built-in wi-fi and more USB ports than you'll know what to do with, staying connected while on the road has never been easier.  Complete with a centrally located twelve volt charging port, the Acadia Denali is capable of handling even your most complicated technological demands.
What's Under The Hood
The Acadia Denali's deceptively slender stature might suggest that it is somehow smaller and weaker than older, larger SUV models in the place where it counts the most. This is decidedly not the case, however, as this monster of a midsize SUV comes with a 3.6 liter, Spark Ignition Direct Injection (SIDI), Dual Overhead Camshaft (DOHC) Engine. In addition, it has variable valve timing, 310 horsepower at 6600 revolutions per minute, with 271 pounds of torque at 5000 revolutions per minute. The Acadia Denali comes with a towing capacity of four thousand pounds. That's enough to tow jet skis, flatbed trailers, modestly sized fishing boats, and so much more!
This engine is also part of GM's fourth generation DOHC V6 family of motors that comes with innovative fuel saving technology. The Acadia Denali's engine system has been designed with two ingenious fuel saving technologies at its core. The first of these game changing technologies is called active fuel management. Active fuel management is activated when driving your Acadia at highway speeds with a low carry load, and it saves fuel by shutting off two of the 6 cylinders while you're traveling at consistent highway speeds. The underlying logic is simple: the fewer cylinders that are actively burning fuel, the less fuel is being burnt unnecessarily, which translates to more savings at the pump. The best part of this feature is that it does not require any driver input and is done completely automatically.
The second elegant fuel saving feature included in this engine's design is the auto start and stop system. This system automatically turns the motor on and off while in stop and go traffic conditions, so you don't burn fuel while being stuck in standstill traffic.
Another notable feature of the Acadia Denali's engine is the aforementioned spark ignition direct injection (SIDI). SIDI allows your Acadia's engine to inject fuel directly into the combustion chamber, and has computer control for the timing and amount of fuel being injected. This is far superior to the port fuel injection system found in typical internal combustion engines. In that older system, fuel is sprayed into the intake port to mix with air before being sent together to the combustion chamber when the intake valve opens. It is simple and reasonably effective, but very inefficient compared to SIDI's model, which uses computer calculations to achieve the highest possible engine efficiency under any and all engine conditions.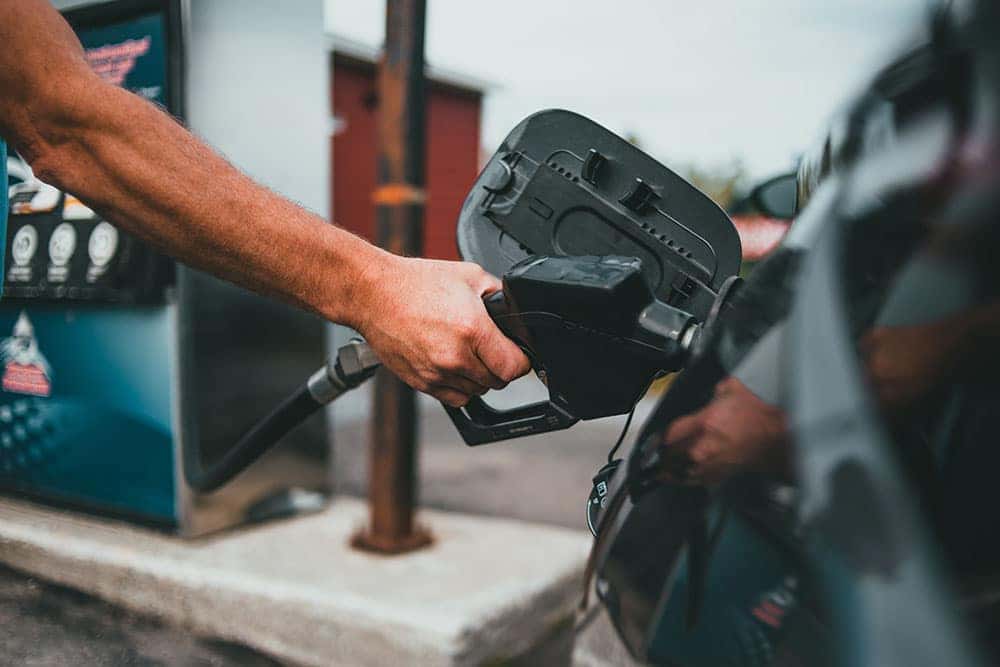 The combination of these three distinct and marvelous fuel saving technologies means that no matter where you take your Acadia or what you ask of it, there will never be a need to fear the gas pump at the end of your journey.
Stepping away from the Acadia Denali's impressive fuel saving technologies for a moment, we find that this SUV's engine also dazzles with a surprising capability for tranquility.  This generation of DOHC V6 engine has been meticulously designed to decrease friction between engine parts and their positions during the engine's operation.  This is a design that naturally increases engine efficiency, and it yields the pleasant bonus feature of an engine that runs on average 4 decibels quieter than previous motors.
With all of these incredible features available, it is clear that in engine design as well as interior and exterior design, the GMC Acadia Denali has been painstakingly crafted to be the most comfortable and efficient workhorse on the market.  These incredible innovations in engine design add up to big benefits in the power, torque, efficiency, and longevity of your vehicle.  Not that you'll have to worry about your engine's health for the first two years of your ownership at least, thanks to Car Credit's generous two year free maintenance agreement.  As the name suggests, this agreement covers all of your maintenance bases for the first two years you own your car, including everything from oil changes and regular belt inspections, to brake pad and spark plug replacements, and even engine tune ups.
In the current era of supply chain issues and soaring inflation costs, programs like Car Credit's limited maintenance agreement are only going to become more valuable with time.
Safety First, First In Safety
While the Acadia Denali's engine is certainly a wonder worth marveling at, this vehicle's safety features are just as remarkable. The 2017 Acadia Denali comes with the best safety package of any Acadia model, and that includes all of the necessary state of the art technologies.  The first of these safety innovations are the Side Blind Zone Alerts and Lane Departure Warning with Lane Keep Assist.  The Side Blind Alerts mean that no matter how you like to adjust your side mirrors, you will always know if there is someone lurking in those pesky blindspots.  Lane Departure Warning with Lane Keep Assist, on the other hand, bolsters your situational awareness by letting you know if you have begun to absentmindedly drift out of your lane and will even help nudge you back into your lane if necessary.
These two safety features alone can protect you and your family from many of the most common and most tragic of roadway accidents, but they hardly scratch the surface of the Acadia Denali's total safety package.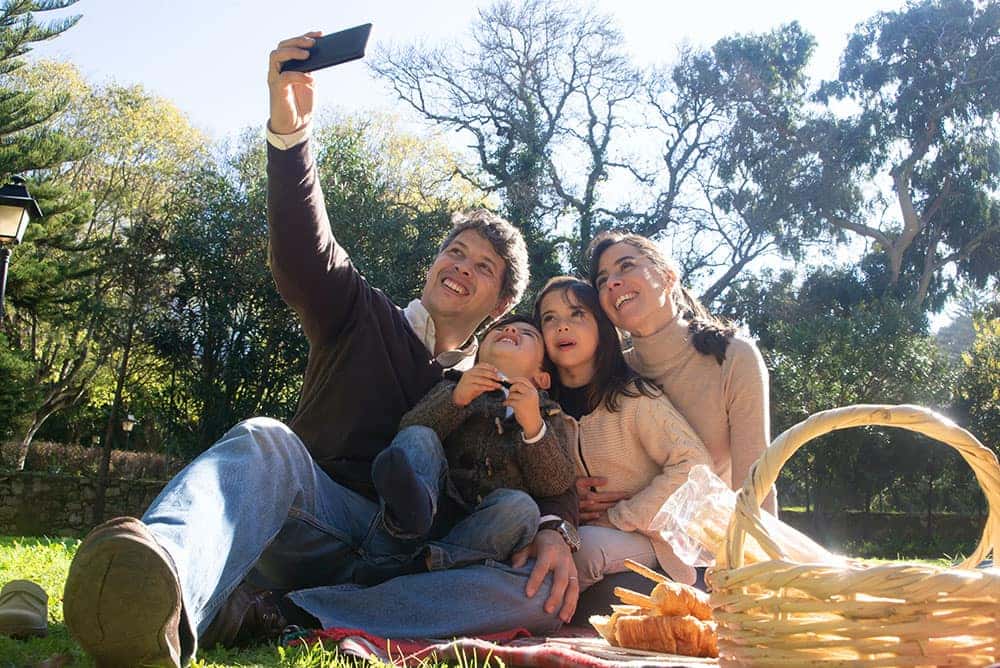 One of the other incredible safety features of this SUV is that it comes with Low Speed Automatic Braking. This feature detects vehicles in front of your car and will automatically brake for you at speeds 50 miles per hour or lower, making sure that if you don't react in time, your car will.  Anyone who has ever unexpectedly come across a roadside accident, a stopped emergency vehicle, or bumper to bumper traffic can attest to the lifesaving capabilities of an automatic braking system such as this.  If that is somehow not enough to satisfy your taste for safety, then you'll be happy to know that the Acadia Denali's safety package also comes with front Pedestrian Detection.  The same technology that allows your Acadia to detect vehicles in your path also detects pedestrians, making it truly invaluable in low visibility situations such as rain or fog.  This technology could easily be the difference between just another Tuesday afternoon, and a situation that might have become the worst day of your life.
This vehicle's safety features still don't stop there, however.  This is because the 2017 Acadia Denali also comes with a Parking Assist feature where the aforementioned dashboard display will show indicators helping you determine how close you are to different objects as you try to maneuver into tight parking spots.  Furthermore, rear Cross Traffic Alerts also spot oncoming traffic that may be out of your view while you are trying to back out of a parking spot.
Last, but certainly not least of the 2017 Acadia Denali's safety features, is its Surround Vision.  Using four cameras positioned around the car, the Acadia Denali is able to offer drivers a full 360 degree view of what is around the vehicle.  Such universal views mean that worrying over blindpsots and low-lying obstructions will be a thing of the past.  With all these safety features coming standard, even the most anxious driver can feel at ease behind the wheel of a 2017 Acadia Denali.
The SUV That Does It All, With Style
When brilliant engineering and design meet the most marvelous features modern technology can offer, you end up with one of the safest, most efficient, most luxurious yet affordable, cars on the market.  It is for these reasons that the 2017 Acadia Denali is one of the most aptly named vehicles to ever grace the factory lines of General Motors.  Just as Mount Denali remains the highest mountain peak in all of the United States, the Acadia Denali is nothing short of the pinnacle of GM's automotive expertise.
The Denali's plethora of high tech safety features mean that you and your loved ones will be as safe as modern engineering can make them.  Its powerful yet remarkably efficient V6 will be able to handle any sized demand you throw its way, and will save you tons on fuel costs while it does it.  Finally, the Acadia Denali's meticulous focus on quality craftsmanship and design will leave you feeling like royalty, without having to pay royal prices.  This incredible litany of features mean that the Acadia Denali will remain your most dependable ally in all your adventures, and those features
combined with Car Credit's generous maintenance agreement means that your Acadia will remain one of the most reliable vehicles on the road for years to come.
Are you in the market for a midsize SUV that can handle whatever you throw at it and keep coming, time after time?  If you're looking for a vehicle that gives you complete control over customizing all the options, or a vehicle that flawlessly combines cutting edge innovation with tried and true engineering techniques that have been refined for decades, then a 2017 GMC Acadia Denali from Car Credit might very well need to be your next vehicle.