Buy One of These Used Cars for the Road Trip of a Lifetime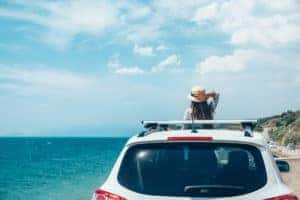 You're young, free, and social distancing like a champ. Why not get just a few friends or your roommates together and go on a road trip? With so much of the world shut down, this is a rare opportunity to see a different side of America. You'll still be able to see the major sites like the Grand Canyon or Mount Rushmore, but you'll also see how that part of America really lives. 
If you want to go on the adventure of a lifetime while you still can, buy one of these used cars to make the trip stress-free and economical.
Fiat 500 
The Fiat 500 is one of the most compact, and therefore economical, vehicles on the market. The 2012 Fiat 500 gets 38 miles per gallon on the highway. This is comparable to recent model sedans. The Fiat doesn't have a lot of space; but for a road trip of just a couple of people, it is a great fuel-efficient option.
Chevrolet Equinox
If you'll be going up into the mountains or doing any off-roading, you'll probably want an SUV. The Chevrolet Equinox, while not the best on space, offers the best gas mileage. The 2018 Equinox gets about 32 miles per gallon, which is pretty good for a vehicle of that size.
Chevrolet Odyssey
This is one of the most reliable and fuel-efficient vans on the market. It's also great for road trips because it has a ton of space. You'll actually get more space out of your Odyssey than you would most modern SUVs. The second and third row seating fold down easily, with the third row of newer models folding down so flat it creates a cargo floor. That combined with a mileage of 28 mpg makes this a great solution for young people or families.
If you are interested in finding one of these or other models perfect for a long road trip, contact us today for an appointment or come by our lot to check out our inventory.
Our main location is at 3923 E. Hillsborough Ave., you can also visit one of our other three locations in Pasco, Ruskin or West Hillsborough Ave. Or feel free to call us at (888) 314-4469 www.carcredittampa.com