7 ways to add personality to your car
Your vehicle is more than a way to get from point A to point B. It's your home away from home when you're on the road. The average American spends 18 days a year in their vehicles. That's 432 hours you could be enjoying a space that suits your style.
Take a note from your closet or home decor when adding accessories to your car. What colors do you tend to wear most often? What style is your wall art? Boho-chic or farmhouse cozy? Sleek and refined or laid back? Bring some of that feeling to your car's interior. It just might lighten your mood the next time you're stuck in traffic.
Maybe you don't spend 18 days a year in your car, but know someone who does. This Valentine's Day, consider gifting your favorite commuter, car enthusiast, or even grocery delivery person a car accessory to match their personality.
Wondering how to add some personality to your (or your loved one's) car's interior? Here are six ways to express yourself when you're out and about.
Oil diffusers

Best for fragrance fans
Let's face it, your car might not always smell like a rose. Maybe you're between upholstery cleanings. Maybe your workout gear — or kid's fallen snack — is making its presence known. In any case, you can help the air smell sweeter by clipping on a vent-mounted oil diffuser. No harsh chemicals or artificial smells. Just moisten the felt pad with a few drops of your favorite essential oil, insert it into the diffuser, and clip it onto your vent (or anywhere you need a scent boost.) Essential oils are not included. You might not need to mask car odors, but still want to enjoy a delectably scented vehicle. For stressing less while staying alert, we suggest lemongrass oil. And for an especially early morning commute, try peppermint oil, a scent known to be a natural pick-me-up.
Faux succulents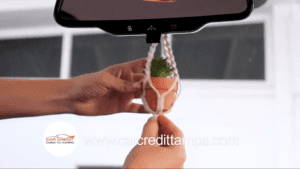 Best for plant lovers
Would you rather be in your garden than stuck at a red light? If you want your car to have the coziness of a houseplant, without the daily watering or messy soil, these hanging mock succulents are your best bet. The set of two come in coordinating macrame holders that match your boho aesthetic. They're small enough not to impede vision, but large enough to make a statement.
Steering wheel covers

Best for beating the heat
If the sun regularly beats down on your car's interior, you've likely grabbed a scorching steering wheel a time or two. To help protect your steering wheel from damaging UV rays while adding some style — and protecting your hands from the heat —we recommend using a Magnelex Steering Wheel Cover. Their breathable microfiber leather is climate resistant and anti-slip — meaning you'll get a better, cooler grip. If you're looking to add some sparkle to your dash, consider a rhinestone-encrusted cover. And don't worry, the gems won't hurt your hands. Whichever cover you choose, before purchasing, be sure to select the year, make, and model of your vehicle to make sure it will fit.
Cup-holder coasters
Best for coffee-lovers
Any coffee-lover (or beverage enthusiast) knows how quickly car cup holders can become caked with drippings — of mocha, and dark roast, and chai, oh my! But coasters can make spills easier to clean. And they add a dose of personality in an unexpected place. Ceramic coasters absorb liquid and help keep cup holders dry and clean. Plus, they clean up easily with soap and water, and are fade-resistant. This set of six ceramic coasters will brighten your car's interior, and maybe your day.
Stickers and decals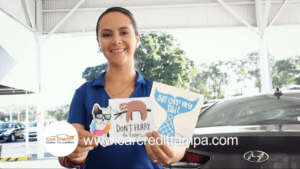 Best for decorators
Stickers and decals have come a long way from the bumper stickers of old. Thanks to removable (and sometimes, reusable) vinyl stickers, you can adhere designs to your vehicle that won't require a chisel to remove. Most are durable, waterproof, and fade-resistant. Car owners adorn their windows and bumpers to promote their hobbies, family, and more. There is a car decal for nearly everyone's interests and passions. Love bulldogs? Or sloths? Or mermaids? There's a sticker for that.
Seat headrest hooks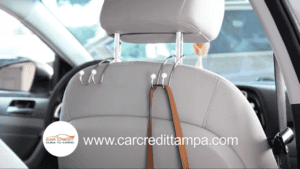 Best for organizers
If you believe everything has a place (and that place is not the floor of the car), these hooks could be for you. They convert your headrest into the perfect place to hang bags, groceries, and anything else likely to roll around between seats. The stainless steel hooks wrap around metal headrest posts, and they add a burst of bling. Choose the rhinestone shade that complements your upholstery.
Cushion car seat protectors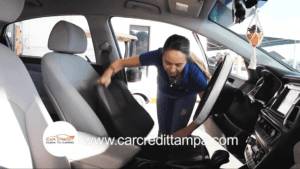 Best for parents
Kids' car seats are a safety must, but parents know how they can leave indents, imprints, and scratches on leather car upholstery. The Gimars XL Cushion Car Seat Protector Mat is thick enough to prevent any wear and tear on upholstery — while still leaving room for car seats to safely latch. The waterproof mat also prevents stains, crumbs, and sweat. The two mesh pockets keep kid essentials close at hand. For dog parents, the thick mat keeps paws from scratching seat cushions. The mat is easy to install and fits most cars, trucks, and SUVs.
Before you begin decorating, do a deep clean of your car's upholstery to get the full benefits of your enlivened interior.