7 Questions To Ask Yourself When Choosing A Work Truck
Even if you have some intermediate knowledge of cars and trucks, choosing a work truck for a new project or to start a new business can be overwhelming. With so many factors to consider it's important to do your homework before making any investment in yourself or your business, and that includes buying a vehicle. Below, we break down all the factors you need to consider in order to purchase the right work truck for your specific needs.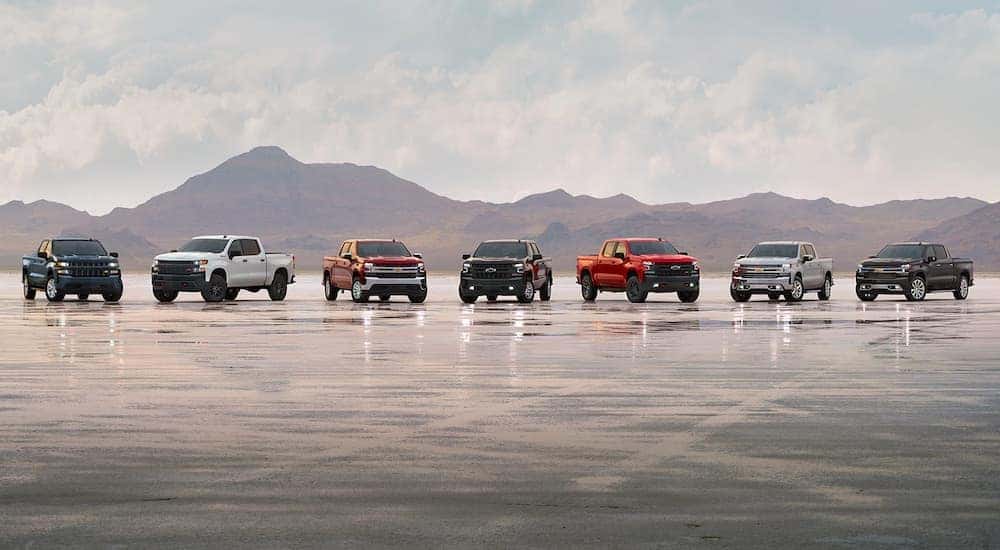 1. What do I need to load or tow?
There are three categories to describe work truck's hauling ability, and various classifications within those three categories according to GCWR, or Gross Combined Weight Rating. Your trucks GCWR is the maximum weight it can accommodate while still operating safely. This includes whatever cargo you're hauling as well as the weight of the truck itself, the passengers, and the fuel.
 If you're hauling mostly small loads, such as furniture or standard tools, then a light duty should suffice. Light-duty class 1 trucks, also known as half-ton or 1500 series, are the most common trucks you'll see on the road and can haul around 1,000 pounds and can tow smaller loads like trailers and small boats and campers. Class 2, also known as three-quarter-ton or 2500 series, can haul around 2,500 lbs and are perfect for towing larger boats, campers, and other equipment. One ton or Class 3 trucks can haul around 3,500 lbs. and are great for heavy-duty work equipment.
Truck Hauling Capabilities:
Light-duty
Class 1, GVWR: 0-6,000 lbs.
Class 2, GVWR: 6,001-10,000 lbs.
Class 3, GVWR: 10,001-14,000 lbs.
Medium-duty
Class 4, GVWR: 14,001-16,000 lbs.
Class 5, GVWR: 16,001-19,500 lbs.
Class 6, GVWR: 19,501-26,000 lbs.
Heavy-duty
Class 7, GVWR: 26,001-33,000 lbs
Class 8, GVWR: greater than 33,001 lbs.
2. Should I opt for a two-wheel or a four-wheel drive?
Four-wheel drive is not considered a standard vehicle feature and comes with an added cost, but is more always better? Before increasing the cost of your work truck, it's important to consider what your primary driving conditions will be like.
In some cases, you may prefer opting for standard two-wheel drive, especially if challenging climates and or difficult terrains are not a concern. Trucks with two-wheel drive offer better gas mileage, lower risk of transmission problems, a lower cost, and usually offer better towing and payload ratings.
Conversely, a truck with four-wheel drive offers substantial advantages if your driving conditions are less than ideal. A four-wheel-drive truck provides better performance on slippery roads, hilly mountain roads, or off-road terrains. Four-wheel trucks are also ideal for challenging climates characterized by lots of snow or rain.
3. How much space and seating do I need in my cab?
Most people prioritize truck bed space, but it's necessary to keep in mind the amount of space you need in your cab, the compartment of the truck where the driver and passengers sit. Consider the crew you might be transporting, as well as the length that a larger cab adds to your wheelbase, which could be an issue for parking. Additionally, you might need more cab space if your truck will serve as a makeshift office on wheels for on-site jobs.
Truck Cab Styles:
Standard cab: also referred to as a regular cab, it includes one bench or two bucket seats, two doors, no second-row seating, and no substantial storage room behind the seat.
Extended cab: the truck either has jump seats (extra folding seats) or full bench seats in the back, in addition to the front bench or bucket seats, and may come with two or four doors. While an extended cab offers extra seating, legroom is limited compared to larger crew cabs.
Crew cab: full-sized, including second-row seating with four full doors. For mid-size and full-size ½-ton pickups bed length is sacrificed for the crew cab; for full-size ¾-ton and 1-ton models, there are no bed-size limitations with crew cab. The additional interior storage provided with this option is a substantial benefit if your business calls for it.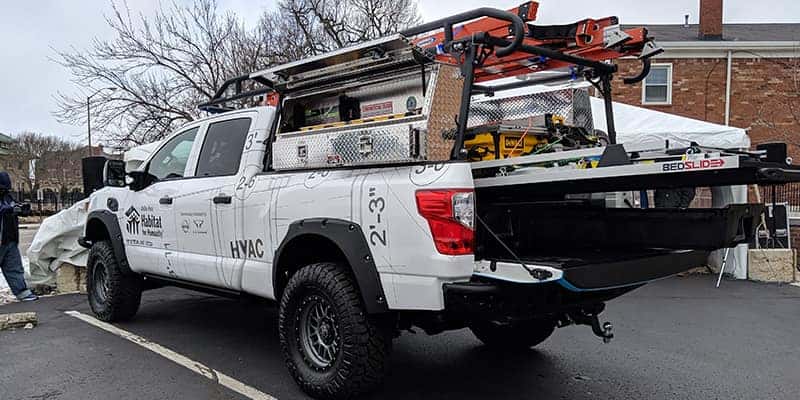 4. What size truck bed do I need?
The truck bed often referred to as just the bed, is the section of the truck reserved for storage and is separate from the cab. When choosing between work trucks, consider how much cargo room you will need to carry the load, and how much a longer bed increases the price and decreases maneuverability. Mid-size truck beds usually range from short to standard, and full-sized trucks typically offer all three bed sizes. While each manufacturer may carry its own specific lengths, the average size of a truck bed generally falls into three size categories. A long bed is usually best if you're carrying loads such as plywood or towing heavy equipment or campers.
Truck Bed Lengths:
Short bed: 5'5" to 5'8"
Standard bed: 6'3" to 6'6"
Long bed: 8' to 8'1"
5. What type of engine do I need?
It's all in the details, and engine type and size are very important details to consider when purchasing a work truck. One important factor to consider is how many miles the truck will operate on average throughout the year. This is because a diesel engine offers up to 30 percent better fuel economy and greater pulling power, however, drivers must pay a premium for this option which means that a truck should travel enough miles per year to generate a return. Diesel engines also provide greater towing performance and reliability, which might be extremely valuable to your business needs.
A gasoline engine provides greater payload capacity but lower fuel efficiency. Although, it is likely the best choice if your truck is operating less than 25,000 miles annually, considering the substantial price difference. A gas engine is also preferable if you need to prioritize horsepower and acceleration; in other words, opt for gas if you'd like a more nimble truck that more easily passes other vehicles on the highway.
Horsepower is another factor to consider when choosing a work truck according to engine-type. More horsepower generally affords more payload and towing capacities.
6. Should I buy a new or a used truck?
A brand-new truck certainly has its advantages – it comes with the latest safety features and engineering technology, which means a lower risk for potential maintenance issues. You can also customize a new truck by choosing the exact features you prefer. Unfortunately, the value of a new truck will depreciate quickly. In fact, new trucks usually shed half their value in the first 2 to 3 years and buyers can easily end up owing more on the financing than the truck is worth.
Purchasing a used truck comes with significant advantages if you purchase through a trusted dealer. In addition to choosing from a much larger market compared to new trucks, it's entirely feasible to find a young car at a lower cost with many working years ahead. When purchasing a used car, you incur the risk of potential problems from undisclosed accidents or engine problems, especially when purchasing an unvetted car from an individual. Avoid these risks by purchasing from a trusted dealership or by having a mechanic provide a thorough inspection.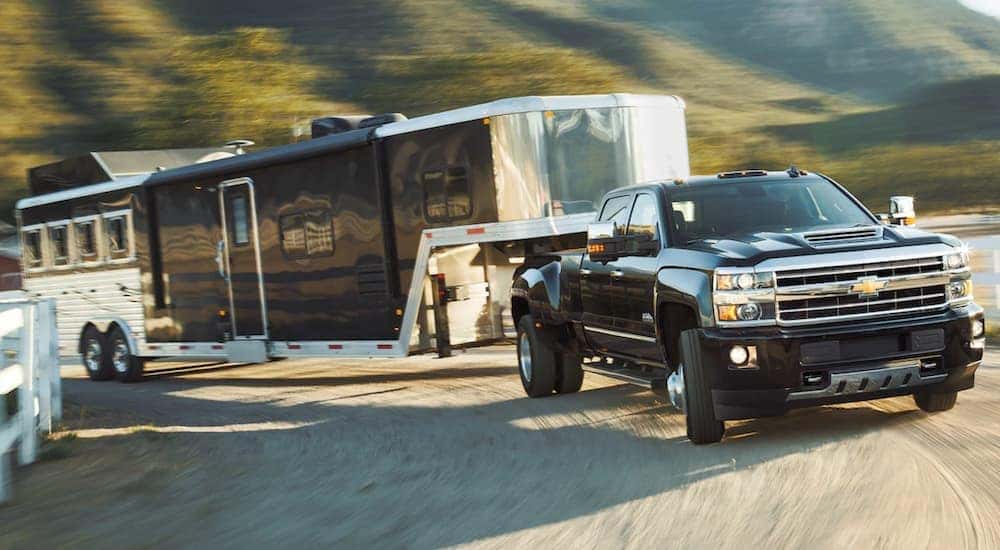 7. What additional features would benefit me and my business?
You've done your due diligence, and researched hauling capabilities, truck bed sizes, cab types, and fuel efficiency. Now consider the details that enhance your work experience and your comfort. What type of seat material works best? Could your business benefit from accessories like toolboxes to organize loose parts and tools, or an overhead rack system for hauling large ladders or long pipe material? You might also benefit from convenience options such as power door locks or cruise control.
Whichever bonus features you seek in a work truck, first and foremost consider your tasks, your business, and your environment. Ask yourself these 7 questions to guide you towards choosing the best work truck for your specific needs, and ultimately, the best return on your investment.
Car Credit keeps finding ways to support the Tampa community and will continue to do so. Click here to learn more.