10 Emergency Kit Must-Haves for Your Vehicle
Getting stuck on the side of the road is probably the last thing you want to think about. But if you do find yourself mid vehicle breakdown, you'll be happy you planned ahead. And while most motorists have experienced a roadside emergency, according to a AAA survey, more than 40 percent of drivers don't have an emergency kit in their vehicle.
Whether a flat tire sends your car swerving or a dying battery power down your vehicle (or any other mechanical mishap occurs), a little preparation could save you a lot of frustration. A well-stocked emergency kit can mean the difference between a minor inconvenience and being stranded for hours — or more. If your tire goes flat, but you have a spare tire and the essentials to replace it, you can get back on the road quickly and safely. If you need to call for help, but your phone is dead (along with your car), you can use a backup battery to power the call.
An emergency kit is not only a time-saver: its first-aid supplies and SOS gear could help save your life.
We've compiled a list of emergency kit must-haves to help keep you and your family safe. Be prepared. Build your emergency car kit with these essentials:
Backup Cell Phone Power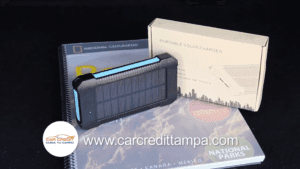 Solar, crank, or battery energy
A charged cell phone can be critical if you need to call for roadside assistance or even emergency medical care. If your phone's battery is drained and your vehicle won't start, you could be out of luck — unless you travel with backup cell phone power. There are a few options for emergency chargers: solar, crank, and battery.
A solar panel battery charger harnesses the energy of the sun to charge your phone or other electronics. We like the Tekpluze solar power bank because it's waterproof, can be charged by sun or outlet, is compatible with ioS and Android devices, and doubles as a flashlight. A hand crank generator is a good option to produce energy at night or during overcast days. A crank generator simply relies on your muscle power. The FosPower Emergency Solar Hand Crank Radio offers ultimate versatility, with three available power sources: hand crank, solar, and battery. Plus, the radio lets you receive emergency weather and news broadcasts. For those wanting a simple battery backup for their iPhone or Android, we recommend a slim power bank that easily fits in your emergency kit or purse. Just be sure to periodically check that the power bank is charged and ready.
While phone chargers are a vital part of your emergency kit, cell phones are not invincible. They can break, be thrown from the vehicle during a collision, or even be forgotten at home. If you don't have a cell phone with you, you won't be able to access digital maps or GPS information. So, it's a good idea to travel with a printed map of your route or a road atlas, just in case. The National Geographic Road Atlas has up-to-date road maps of all 50 U.S. states — plus callouts to fun places to stop on your journeys.
Tire Replacement Basics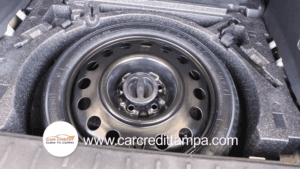 Spare tire, wheel wrench, tire inflator, and jack
Flat tires are one of the most common reasons for roadside service calls. With a few tire replacement basics tucked away in your trunk, you'll be prepared if a tire blows. First, in order to replace a tire, you need a spare tire waiting in the wings. After confirming your spare tire is in place, complete your emergency tire kit with a sturdy jack, durable wheel wrench, and digital tire inflator. Pro tip: Keep WD-40 on hand to help loosen stubborn lug nuts.
Alert Gear

Triangles and LED flares
Whether you're changing a tire roadside or trying to flag down assistance, make sure other drivers can see you — even in the dark of night. Place reflective emergency triangles on or around your vehicle — especially if it has stalled on the roadway. Flares are also an excellent way to alert other drivers. Traditional flares require fire, but LED flares are reusable and long-lasting. These Garage Monkey LED flares have six flashing modes, including one that flashes the universal distress code S-O-S. To ensure they'll be ready to go if you need them, include extra batteries in your emergency kit.
Backup Battery Power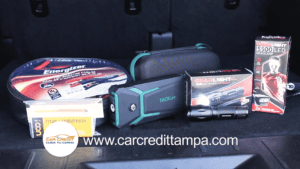 Battery charger and jumper cables
Jumper cables are a must for any car emergency kit. They are ideal when your call stalls out in a high-traffic area. But if you find yourself stranded on a winding country road, it could take a long time to flag down a passerby. That's when a portable car jump starter comes in handy. The Tacklife Car Jump Starter can start a dead 12-volt battery in seconds. Simply insert the included jumper cables into the booster, connect the clamps to your car battery, start your engine, remove clamps, and pack away. We recommend having both classic jumper cables and a digital car starter to cover all emergency battery needs.
Lights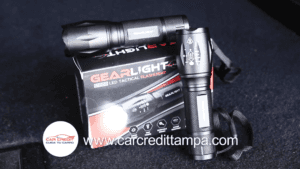 Flashlight, headlamp, and matches
If you are trying to work on your vehicle in the middle of the night, it's important you can clearly see what you're doing. Headlamps are perfect hands-free lighting while you work on repairs. A standard LED flashlight is also helpful — whether you're working under the hood or trekking to town for help. Some car emergency preppers prefer to carry matches in their car kits. If you're one of them, we suggest reliable waterproof matches. And a fire extinguisher is essential. Note: Fire extinguishers should not be used to fight a car fire. If your vehicle is on fire, the best option is to get out quickly and call the fire department.
Breakaway Helpers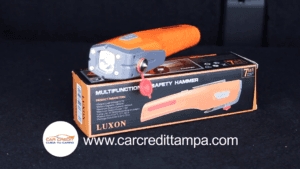 Window breaker and seatbelt cutter
Seatbelts and sturdy car windows keep us safe in day-to-day driving conditions. But in an emergency, they could keep you trapped in a dangerous situation. It's especially important to be able to break free of any constraints if your vehicle becomes submerged in water or engulfed in fire. Every second counts when it comes to safely exiting your car. Thankfully, there are products designed for this exact predicament. Keep a dual window breaker and seatbelt cutter within arms' reach in a glove compartment or center console. To get the most bang for your buck, choose the LUXON seatbelt cutter and window breaker that works as a 7-in-one rescue tool — with a safety hammer, magnet, LED flashlight, USB charger, and hand-cranking charging system.
First Aid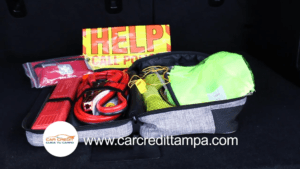 First aid kit
A first aid kit is a must for treating minor aches and injuries when on the go. This 299-piece first aid kit covers everything from bandages and antibiotic cream to scissors and gauze.
Food and Water
Water pouches and protein bars
If you're stranded for a long time or in a hot climate, you need drinking water in your emergency kit. For water that will last — no matter the temperature — and won't leak, choose emergency water pouches. To stay well-nourished, pack your favorite protein bars for an energy boost. Tip: Don't include any protein bars made with chocolate; they'll likely melt in the sun.
Protection from the elements
Blankets and ponchos
If you're waiting for help, or drudging to a far-off gas station, it's important to stay warm and dry. And if you are stuck overnight in your vehicle, you'll be happy you stashed a blanket in your pack. The Tirrinia Outdoors Throw Blanket will keep you comfy and dry. One side is made of soft fleece and the other of waterproof backing. If you have to be out in the rain, wear a poncho. This pack has ponchos for the whole family.
COVID-19 Essentials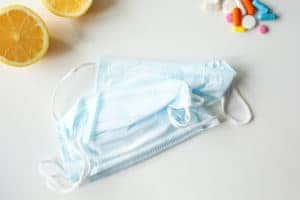 Masks, gloves, and hand sanitizer
Road trips are a great way to enjoy socially distanced vacations, but steering clear of others could be a challenge if you need to get help. For unexpected interactions, keep yourself and your family safe by packing a set of masks, gloves, and several small bottles of hand sanitizer.
Prefer a pre-assembled kit?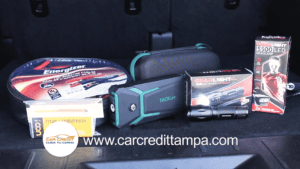 Ready-made emergency kits
If you're on a budget, consider starting with a ready-made emergency kit. They cover the basics (including jumper cables and a first aid kit). But you'll need to purchase some items separately. Items not included in the standard pre-assembled kits:
Jack
Wheel wrench
Tire inflator
Digital jump starter
COVID-19 essentials
Water
Protein bars
Fire extinguisher
Waterproof matches
Headlamp
LED flares
Backup cell phone power
Extra batteries
Fill a waterproof backpack with items as you build your kit. Whether you choose a pre-made kit or build your own from scratch, remember to check it every six months; replace any expired products so it will be ready if you ever need it.